Foreword by Bishop Emeritus Martin Drennan
Most of us who choose to visit here have one thing in common. We want to live life to the full. We want to live well and to die well. To help us towards our goal wisdom to guide us on our journey is always welcome.
The Stations of the Cross have their own special brand of wisdom. They draw us to ponder the last days of the life of Jesus who came among us to show us how to live and how to die. Two words say much about him. In him compassion and fidelity met. His compassion led him to see what people could be. Compassion sees possibilities, it sees potential. It understands and respects those who are fragile and vulnerable. Jesus was a model of compassion and also a man of fidelity, faithful to his own inner truth.
The Stations of the Cross are a sharp reminder of how both his compassion and fidelity were tested to the limit during the final days of Jesus' life. Jesus had to contend with injustice, hatred, corruption, betrayal, abandonment. He remained true to himself, giving in love right to the end. His compassion was also stretched to new limits, stretched to forgiving those who sent him to his death. He died fully used up.
As we reflect on his journey to the Cross he draws into his experience. He has won for us the staying power we need to live compassion and faithfulness to the end. For him death was victory, the triumph of fidelity and mercy. His presence with us gives us confidence that we can live well and die well. The power with us is greater than the task ahead.
Pray the Stations of the Cross
---
See also: Gabriel Hayes, Sculptor of the Stations of the Cross ♦ About the Author ♦ Acknowledgements
---
The Stations of the Cross in Galway Cathedral
When in 1958 the artist Gabriel Hayes (1909-1978) was commissioned to carve in stone the Stations of the Cross for the Cathedral being built in Galway, she chose Portland stone as material for her creation.
Portland stone is quarried on the Isle of Portland (hence the name) in Dorset on the south coast of England, in the English Channel. Portland stone formed in the last seven million years of the Jurassic period (200 to 145 million years ago) called the Tithonian stage (152 to 145 million years ago), and consists of white-grey limestone beds which are separated by layers of chert. Chert is a sedimentary rock and is also known as 'flint'. Gabriel Hayes came across just one of those flint-stones embedded in Portland stone when she carved the knee of Pontius Pilate shown in the first station: she had to remove the flintstone, i.e. carve it out, and afterward re-carve the knee at a slightly lower level.
Portland stone is found not only in Galway Cathedral, but its material has been used in buildings across the British Isles, and even as far as the United States; examples are the Banqueting Hall of Whitehall Palace (1619 CE) and the east façade of Buckingham Palace (1910 CE); it was used in erecting the building of the United Nations headquarters in New York City (completed in 1952 CE) and for the restoration of St Paul's Cathedral, London (1983 CE).
In 1958, at the age of 50, Gabriel Hayes began carving the fourteen Stations of the Cross, for which she used 28 life-size figures, finishing her monumental work in 1976 after almost eighteen years and just two years before her death.

Just to give the reader an idea about Gabriel Hayes' artistic expressions, may it suffice to call to mind the Irish decimal halfpenny, penny and twopence coins completed and introduced in 1971, the designs of which were another splendid example of the wonderful inspiration and work of Gabriel Hayes.
Gabriel's daughter-in-law, Róisín Fant Ó Ríordáin, has written a wonderful and instructive article about her mother-in-law, the late Gabriel Hayes, which was included in the 50 years' Jubilee Celebration Booklet, and it is with great appreciation to Róisín and with her permission that her article is included below.
Gabriel Hayes - Sculptor of the Stations of the Cross
Róisín Fant Ó Ríordáin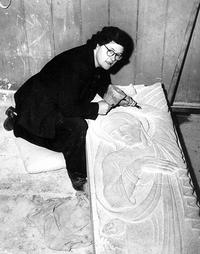 Gabriel Hayes Ó Ríordáin was my mother-in-law; as we lived next door I saw her daily as she worked on the Stations of the Cross for Galway Cathedral. Carving the Stations of the Cross was her last major work. The project started when she was 50 years old and finished 17 years later, just shortly before she died.
It was a period of many changes in her life. Her husband, Prof. Sean P. Ó Ríordáin, had just died as well as both her parents, her two children got married, grand-children were born and she moved from her home to a cottage nearer the studio.
She had some frustrations over the Stations, not of her doing, due to delays in moving the work to Galway. But in a letter to Bishop Browne, she said this "was the main work of my life".
The Stations were not made in sequence as Gabriel said it was easier for her to think of the composition of each figure or group while keeping continuity. But she was always picturing where each one was to be placed - what was on either side, so there was no repetition of design. The models for the 28 figures were here neighbours, relatives and friends. When she notices that one visitor had long graceful hands, these were drawn and used for Mary. Other people were photographed or had a casting taken in plaster of a limb - no one was safe. A full-sized model of each station was made for the Bishop to see (and approve) and then chiselled from Portland stone. When working in plaster she carved the piece rather than model it. Later the stone work proved too taxing, even with the help of a local stone-cutter and so the final stations were cast in re-constituted stone from her carved plaster models. One is actually part stone and part casting. The casting was done in Creedon's of Rathmines and Gabriel then worked over the statue with her chisel to give it the final finish. The statues are very large, they were made in the studio on a low platform so that by looking down from a balcony, she could check that the perspective was correct, as they would be placed high up on the cathedral wall. To move these, she had a series of metal rollers which I would reposition as she levered the statues along the floor. She was double my age and had back surgery but I was never allowed to do any heavy lifting - that was her job.
Occasionally, she would discuss with me the design of a station as she visualised it. I am not sure if I was any help, but I hope that even talking about it, clarified her thinking. One I remember in particular was the 6th station. Both of us thought the usual depiction of Veronica holding a towel to wipe his face in a crowded street, would have been a rushed affair, so Christ is using a bundled cloth in his hand. She did very detailed research e.g. studying the work done on the Turin shroud for details of the Roman method of Crucifixion in Palestine at that time. To demonstrate the thoroughness with which she designed each station, I quote from a letter to Dr. Browne. In the 3rd fall, "I was not happy about the action of the left arm, in fact it had too much action, was not limp and listless enough. So I broke it off and re-carved it 3 times before I was content with it. You see the whole figure had to express extreme exhaustion. He had fallen and is in the act of rising to his feet (unaided of course). He sags back on his knees, gasping for breath. I do hope that I have conveyed what was in my mind......it gives some idea of Christ's exhaustion at that time. I have the cross in the background, to suggest that now the final agony is near, and also from an artistic viewpoint, it balances the sag of Christ's Body."
But to start at the beginning, Gabriel was born in Dublin in 1909. Her father, Jeremiah, was a Limerick man who worked in the maintenance department of the prison service. He later made furniture to Gabriel's design. After school in Dominican College, Eccles Street, she spent three years in France and then returned to the Metropolitan School of Art. She won several scholarships and bursaries, and the Taylor prize in 1934. The theme was 'The Prodigal Son' which Gabriel carved in plaster. The statue was sold and the only record is a rather blurred newspaper photograph. While still a student, she started exhibiting at the Royal Hibernian Academy, several pieces each year, paintings, linocuts and some sculpture, - a practice she continued for many years. Later work was dictated by commission, many of which were from the Church. But at that time, she had the freedom to explore subjects that interested her, a portrait of an interesting face, not conventionally beautiful, a wood carving suggested by the shape of the wood etc. Her subjects were quite varied. She had an interest in Eastern art, and many years later enjoyed a visit to Japan. Most of the paintings included people and she also painted portraits (usually friends or fellow students) and several in the form of still life. There is no record of any landscape pictures. A few examples of paintings - "St. Brigid," (1936) a large full-length picture of a country woman, in a cloak, battered straw hat, her skirts pinned up out of the dust, carrying a book and a large staff; she looks a determined woman, with ideas of her own, a leader not a follower, but not obviously pious. "Fionnbhar" (1941) shows her young son, holding his rocking horse (made by her father), and toy doll, - an affectionate portrait of a child. "The Cork Bowler" (1939) was painted at Lough Gur, Co. Limerick where her husband was excavating. It shows the bowler as he was getting ready to throw and another older man, behind, looking intently along the road, gauging the distance. This was included in the National Gallery's exhibition "A Time and a Place" in 2006/7.
In 1934 she was commissioned to carve Stations of the Cross, the first of two sets of stations, the second being done much later for Galway Cathedral. The original series were for the Hospice at Harold's Cross, Dublin. Later these were moved to the church of St. Jude at Willington, Templeogue. These are carved in plaster, showing close-ups of the heads of the characters in each scene, they were uncoloured, with gold haloes, and a plain wooden frame. Three carved wood panels, Madonna and Child, a Pieta, and Head of Christ were taken to Africa.
Gabriel married Sean P. Ó Ríordáin in 1936 when he was appointed professor of Archaeology in U.C.C. and they moved to his home in Monkstown, overlooking Cork Harbour. Her work continued, mostly paintings of Cork people, as she had no studio for carving. In 1940, the Irish Free State government needed extra office space and a new building was erected on Kildare Street for the Department of Industry and Commerce. A competition was held to select a sculptor for panels on the façade. Five well-established artists were invited to submit designs and on the death of one of them, Gabriel's name was included and she was finally selected. She carved 11 limestone panels depicting Irish industry and two carved granite cap-stones of 'Erin' and St. Brendan. This was a major undertaking for a young woman as there is no record of any previous stone carving by her. The press seemed intrigued by the sight of a young woman working high on a scaffolding - what she wore, her slim. delicate hands, mother of two infants etc. etc.
When her husband Sean was awarded the professorship in UCD, the family moved to the banks of the Liffey, near Celbridge and Gabriel lived there until her death. The house had stables and outhouses which she converted into a studio. So she spent some time getting the house in order and converting the outhouse. She also had two young children so she had less time for her own work which continued more slowly.
The 'An Tostal' festival in the early 1950's was her next official commission. The festival was to promote Irish tourism and many events were planned to extend the tourist season. Gabriel won the competition to design the trophies. Two large bronze shields were carved and then cast in bronze, one for sport and the other for the arts. Several were awarded but they proved too costly and a smaller cut-down version was made on a marble base.
Many Madonnas were made in both stone and bronze: Leixlip, Co. Kildare, Merchant's Quay in Dublin, the Servite Priory in Benburb, Co. Tyrone, the Black Valley, Co. Kerry, Westport Church, Co. Mayo, and other religious works include carving of the Ascension on the front of the church at Gurranebraher in Cork, two bronze statues in Glanworth, Co. Cork, of the Madonna and of Christ, a stone statue of St. Brendan (and one of the Stations of the Cross) in St. John's Church in Tralee, Co. Kerry and the Holy Family on a school in Newbridge, Co. Kildare.
Gabriel started producing linocuts as a student and continued for most of her life. Often these were sent as Christmas cards and they have a wide variety of subjects, from a view of Monkstown Castle, 'The New Bridge', beside her house, Christmas Eve in Celtic style, the Three Kings, carol singers, the Christ Child were some of her titles. Quite a few show her understanding of Celtic art, probably encouraged by her archaeologist husband. Most of these were handprinted, but some of them were printed commercially, especially those used as Christmas cards.
After breaking her collarbone in a fall, she was unable to carve. As the forthcoming decimalisation was in the news, she set herself the task of designing new coins, going into the National Museum to study those from other countries. She submitted two drawings to the Department of Finance asking that they be included in any competition. Her designs were accepted and she was then asked to submit a further design for the two-penny coin. She was very pleased to think that all over the country her designs were in so many pockets. As a result of this, the Franklin Mint in the U.S.A. commissioned her to design a series of seven medals, commemorating the life of St. Patrick, which were issued, one each year, from 1972-78.
On finishing the Galway Stations, she wanted to have an exhibition of her own work and drew up a list of proposed paintings. But first, there were some pieces of wood, put aside in the studio for carving, that she was itching to get her hands on. The first of these was the head of "Gráinne Mhaol Ag Feachaint chun na Farraige" which won the gold medal at An Taispeantas Ealaine the year before she died. She also carved a seahorse in beechwood, but that remains unfinished. She did one small painting to get back the 'feel' of that technique and then she painted a larger one "A Study of Old Age." It shows an old broken bench that was lying against the studio wall, and the ghostly image of a child superimposed on it. This was the memory of a photograph of herself as a child, sitting on that same bench. "Here is the bench - what of the child?" A very perceptive view of life and her last painting.
I thank my husband, Fionnbharr, for his help, corrections, insights, photographs, and memories of his mother, without which this article would not have been written. - Róisin Fant Ó Ríordáin
About the Author
Hermann Josef Müllers was born during World War II in 1940 in Viersen, in the Rhineland of Germany.
In 1969 he was sent by his employer to Galway to take up the post of production manager in the company Micromotors, situated in the Mervue Industrial Estate.
Hermann is married to Evelyn, a Galway girl from Shantalla, and both of them are proud of their five offspring, three girls and two boys.
Hermann is a member of the Cathedral Choir since the early 1990s and a regular reader in the daily weekday masses at 11:00am and 6:00pm. After completing two booklets about the stained glass windows, Martin Hanley, who had provided the photos of all the windows, suggested compiling an additional booklet about the Stations of the Cross. This idea of a booklet was changed later to become this online article, explaining all 14 Stations, with prayers, reflections and additional information that may prove helpful to visitors to our Cathedral.
May you enjoy this article, and may you, after going home, occasionally take up your tablet and think and pray for sculptress Gabriel Hayes, who created these stunning life-size figures for Galway Cathedral, which - by the grace of God - will still be there for our children and children's children to admire.
Galway, March 2019
Acknowledgements
My gratitude belongs to several people, without whose invaluable and informative contribution this article would not have been written. I would like to thank first of all Bishop Emeritus Martin Drennan for proofreading, and his kind advice expressed in the Foreword; my thanks are also due to our present Bishop Brendan Kelly for his warm and encouraging words. I am indebted to Fr Michael Mullins for his most prolific and helpful contribution, his wonderful and deeply spiritual expressions, which he used first on the occasion of the unveiling of the bronze plaque dedicated to the sculptress of the Stations, Gabriel Hayes. Thank you, Róisin Fant Ó Ríordáin, daughter-in-law of Gabriel, and husband Fionnbharr, whose article and the photo of Gabriel Hayes at work not only added so much information, but also beautifully enhanced this article. A special thanks goes to Martin Hanley who took and provided the photographs, supported me with the present layout, and was the initiator who suggested to me that such information should be made available to assist our visitors to appreciate and admire the marvellous Stations of the Cross carved by the late Gabriel Hayes. And last, but most certainly not least, my thanks go to our organist and Director of Music, Ray O'Donnell, by whose effort and IT-knowledge this information is now available online. - Hermann Josef Müllers