Introduction
Fr Michael Mullins
For centuries Christian pilgrims have walked along the Via Dolorosa in Jerusalem, reflecting on the final journey of Jesus to his crucifixion and on its significance for our personal lives and the life of the world. The pilgrims' walk along the Via Dolorosa is reflected in churches throughout the world in the prayerful celebration of the Stations of the Cross.
As we walk with Jesus on his last sorrowful journey we realize that he also walks with us on our difficult journey through life.
First Station: Jesus is condemned to death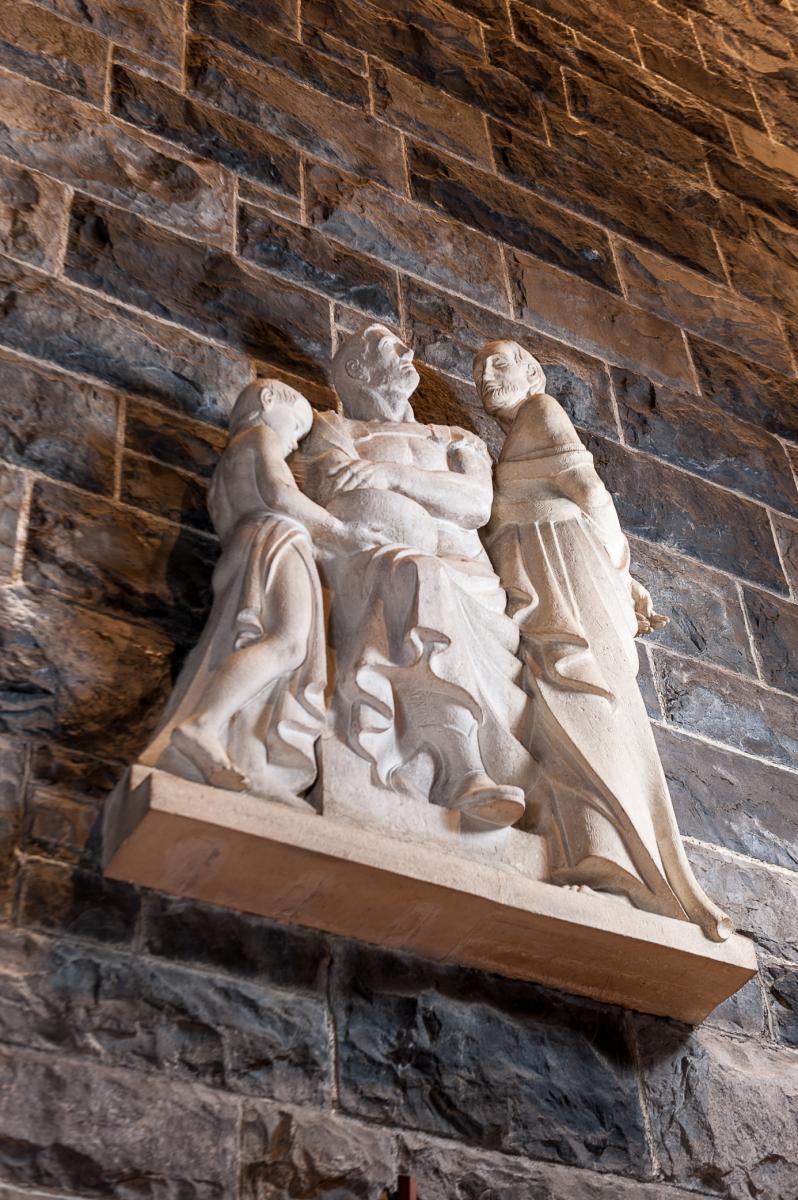 When Pilate saw that he was not succeeding at all, but that a riot was breaking out instead, he took water and washed his hands in the sight of the crowd, saying, "I am innocent of this man's blood. Look to it yourselves." And the whole people said in reply, "His blood be upon us and upon our children." Then he released Barabbas to them, but after he had Jesus scourged, he handed him over to be crucified.
Looking at the three figures depicted in the First Station, we notice Pilate, his left hand reaching into the bowl held by the boy at his right, to wash his hands 'in innocence'. Jesus is depicted at Pilate's left, his hands bound at the back like a criminal. He is silent:
Like a lamb led to the slaughter
or a sheep before the shearers,
he was silent and opened not his mouth.
Pilate is gazing as if to distance himself from all the commotion, despite being aware of Jesus' innocence.
Here we see a judgment based on false accusations and condemnation by a judge who had already declared the innocence of the accused. Under threat from the mob, and fear of losing his standing as a friend of Caesar, Pilate washed his hands of his responsibility. "What harm has he done?" Pilate had asked his accusers (Luke 23:22).
Someone could have replied: "He healed the sick, raised the dead, and proclaimed good news to the poor," but no one did and Jesus himself remained silent.
---
In our day we see persons imprisoned because they upset the powerful by working for the poor, the marginalized, and the human rights of the oppressed.
We remember the many innocent people falsely accused and imprisoned victims of spite, money grabbing or religious and ethnic bigotry.
Reflection
O Lord, let me never judge people nor their actions. Make my heart become more and more pure, so that I may realize that it is you alone who judge. Make me aware of the pitfalls of criticism, knowing that you probe the loins and hearts of every human. Help me to acknowledge my helplessness and nothingness, and increase humility in me, that I may be able to accept myself, even if others falsely accuse or judge me.
Second Station: Jesus takes up his cross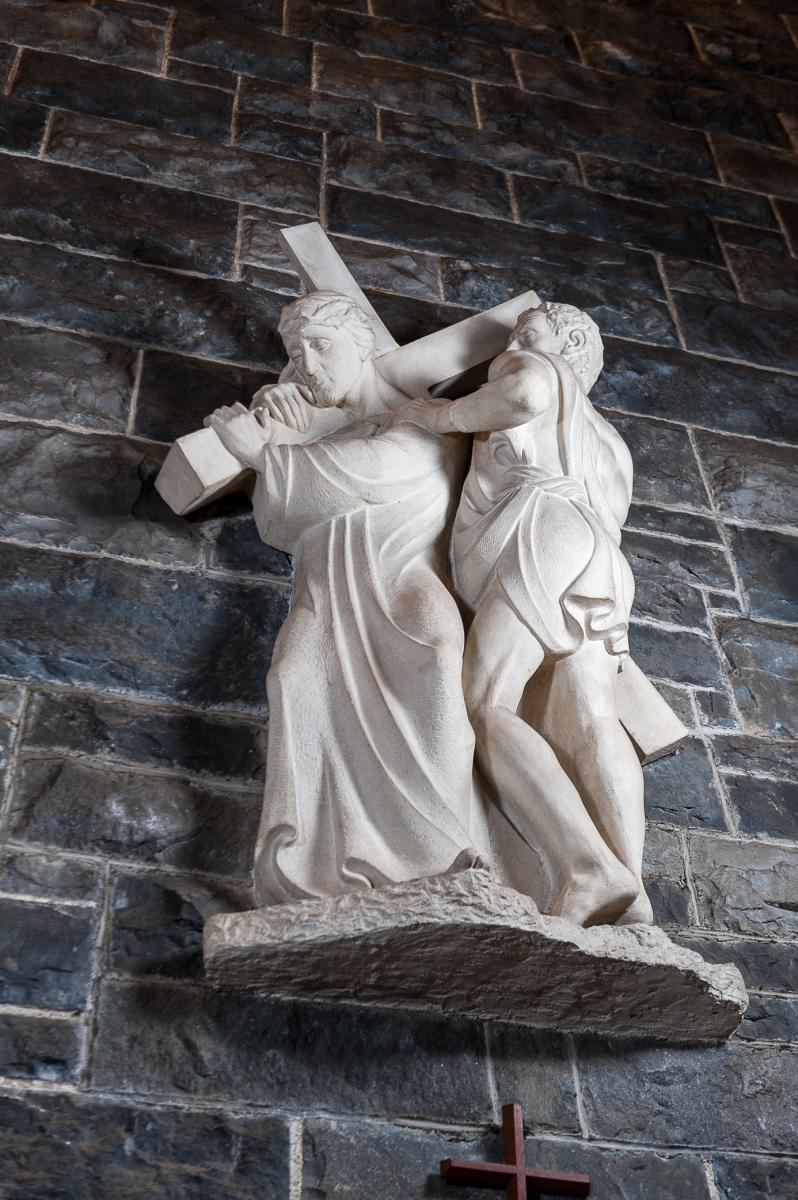 So they took Jesus, and carrying the cross himself he went out to what is called the Place of the Skull, in Hebrew, Golgotha.
The way of the cross was the walk of shame, the 'perp' walk through the crowded streets. Crucifixion was designed to end one's life in agony and disgrace, to wipe out one's following. The cross came as no surprise to Jesus as he had spoken of his own forthcoming rejection and warned his followers that they too would have to take up their cross. But in the greatest irony in history, the cross of shame was to become the great symbol of our salvation through God's triumph over sin and death in the Resurrection of Jesus.
This sculpture shows Jesus at the moment of receiving his cross, placed on his right shoulder, which He embraces with both hands. This could be construed as a metaphor for all of us: we should embrace our own cross and carry it daily. The soldier seems completely oblivious to Jesus' pain caused by the rough edges of the wooden cross, which undoubtedly must have hurt badly as they cut into his shoulders.
---
We don't choose our cross. It is placed upon us by age, ache, poverty, imprisonment, serious accident, pain, sickness, premature fatal illness, and bereavement. We can run the risk of turning the cross into a pious or sentimental object, even seeing it as an ornament or badge of status fashioned in gold and studded with precious stones – a far cry from the instrument of torture, the first-century equivalent of the electric chair, the gas chamber, the hangman's noose or lethal injection. But it is the badge of our salvation, a stumbling block to some, foolishness to others but to those who are saved it is the wisdom and power of God (1 Corinthians 1:18, 22-23).
Reflection
Jesus, you have said that,
Whoever wishes to come after me must deny himself, take up his cross, and follow me.
Lord, make me realize that I have to bear my own cross day after day. Teach me to be sympathetic to my neighbours and their crosses. Help me to follow you and fulfill your commandments, so that I might become your true disciple and, if it is your holy will, may I be blessed to find, like you, another Simon of Cyrene to help me carry my cross and ease my burden.
Third Station: Jesus falls for the first time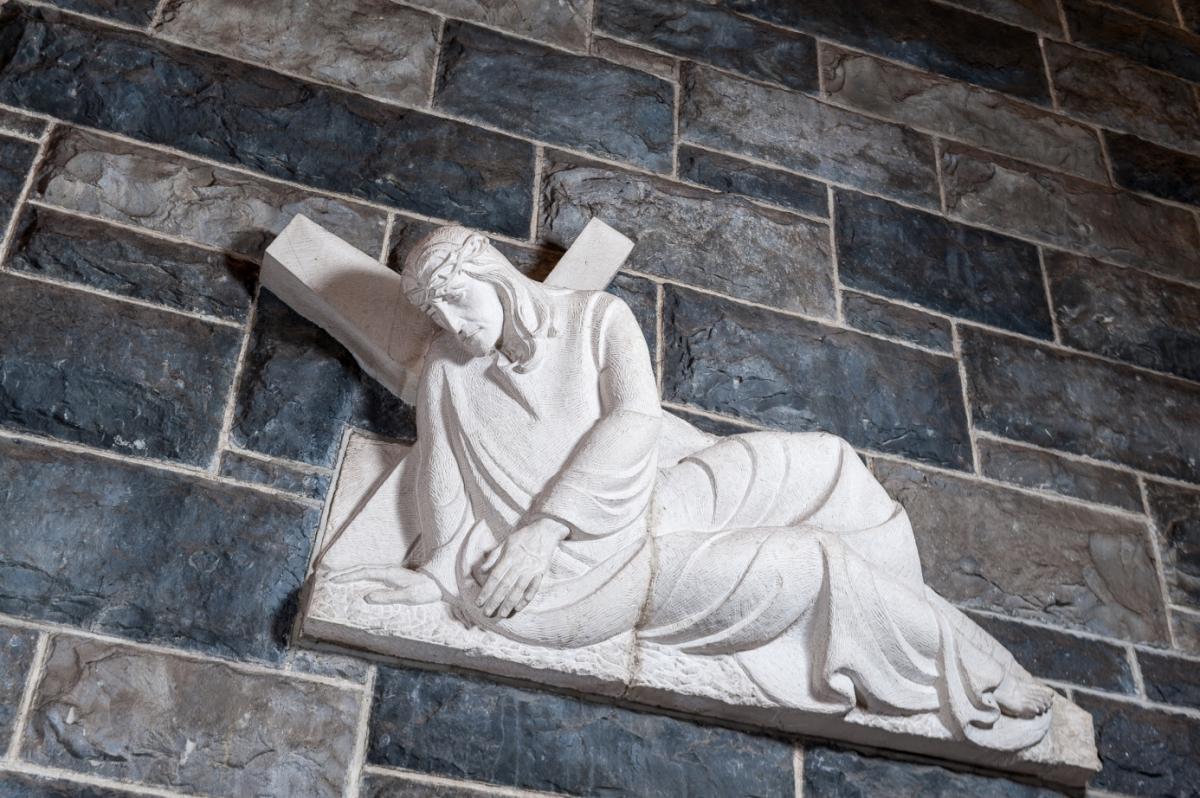 Nothing is known about Jesus' first fall, nor of the other two. The Bible gives no information about his three falls under the cross. However, it is reasonable to assume that, by the scourging and other blows received, Jesus' strength was weakened to such an extent that his legs gave way, he stumbled and fell to the ground under the weight of the cross.
---
Jesus is depicted after falling to the ground, his cross still visible behind Him. With resignation in his face, he seems to be attempting to bring his left hand, hanging down powerlessly, around to help himself to rise as his right hand seems to have taken the brunt of the fall.
There seems to be no strength left in Jesus' body, yet he will get up eventually to complete his mission.
As we see Jesus after stumbling under the weight of his cross we are reminded of his humanity, his sharing with us in our human strengths and weaknesses.
---
We stumble under the weight of our crosses. How often do we say or hear the words, 'How can I cope?', 'Will I ever be right again?', 'How can I get over this?', 'Will things ever work out?'
Reflection
Dear Jesus, how often I feel I can't go on any further; that the weight of my cross, my everyday sorrows, pains, and problems seem insurmountable; that I rather succumb and resign, because I don't see any way out of my situation. Help me to be strong like you, to keep going like you, despite all the obstacles in my way.
Jesus, I trust in You!
Fourth Station: Jesus meets his mother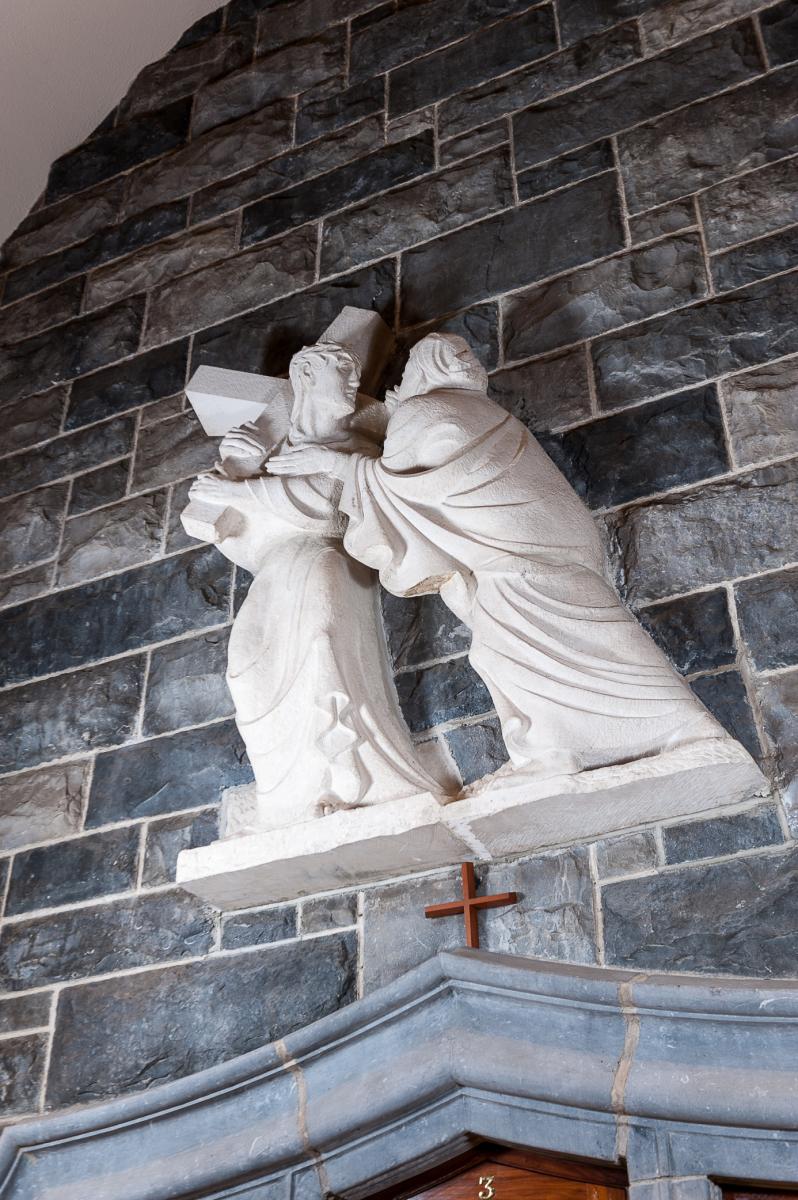 There is no record in the Bible narrating such a meeting between Jesus and his Mother. Yet, it is reasonable to locate Mary quite near her son on the way to his crucifixion on Calvary. What doubts, what pain must have gone through her heart, seeing him disfigured, badly beaten. This Jesus seemed very different from what the angel Gabriel promised when he said:
Behold, you will conceive in your womb and bear a son, and you shall name him Jesus. He will be great and will be called son of the Most High, and the Lord God will give him the throne of David his father, and he will rule over the house of Jacob forever, and of his kingdom there will be no end.
We can see great sorrow etched on Jesus' face as he reacts to the desperation of his mother. The mother sees the child of her womb, now a man, subjected to abuse, cruelty, misrepresentation, as the life she gave him is about to be snatched away in its prime. The words of Simeon are coming true, that 'a sword will pierce your own heart' (Luke 2:35). Jesus sees the distress of his mother and this adds to his own suffering as he turns to continue on his painful journey to his death on Calvary.
Notice how Mary tries to pull Jesus away from his cross: it looks as if she is pleading with him to show his/God's power and glorify him as foretold in the angel Gabriel's prophecy.
Jesus, however, by turning his head back and looking at his mother, apparently loses his focus ahead for a moment, telling his Mother to let him go and to get on with his fate by seemingly clutching his cross even tighter, determined to meet his destiny. Later, while hanging on the cross, Jesus would entrust his beloved disciple, John, to his mother, after which John would take Mary into his home. Thus, John became the archetype for all Christian families who are encouraged to make a place for Mary in their homes.
---
Here we see reflected the story of the mothers of the abused, those bullied to the point of suicide and victims of wars between the high and mighty in their struggles for wealth and power, or driven by bigotry and hatred.
Reflection
Lord, it is almost impossible not to sympathize with Mary, and not to understand her doubts about the angel's prophecy, after seeing her son being led to his crucifixion. Give me the strength of Mary's conviction and belief in Jesus, despite all the problems and obstacles in my own way, seemingly impossible to overcome. Let me be courageous like Mary under the cross of her beloved son, and grant me the bliss she experienced after his resurrection.
Fifth Station: Simon of Cyrene helps Jesus carry his cross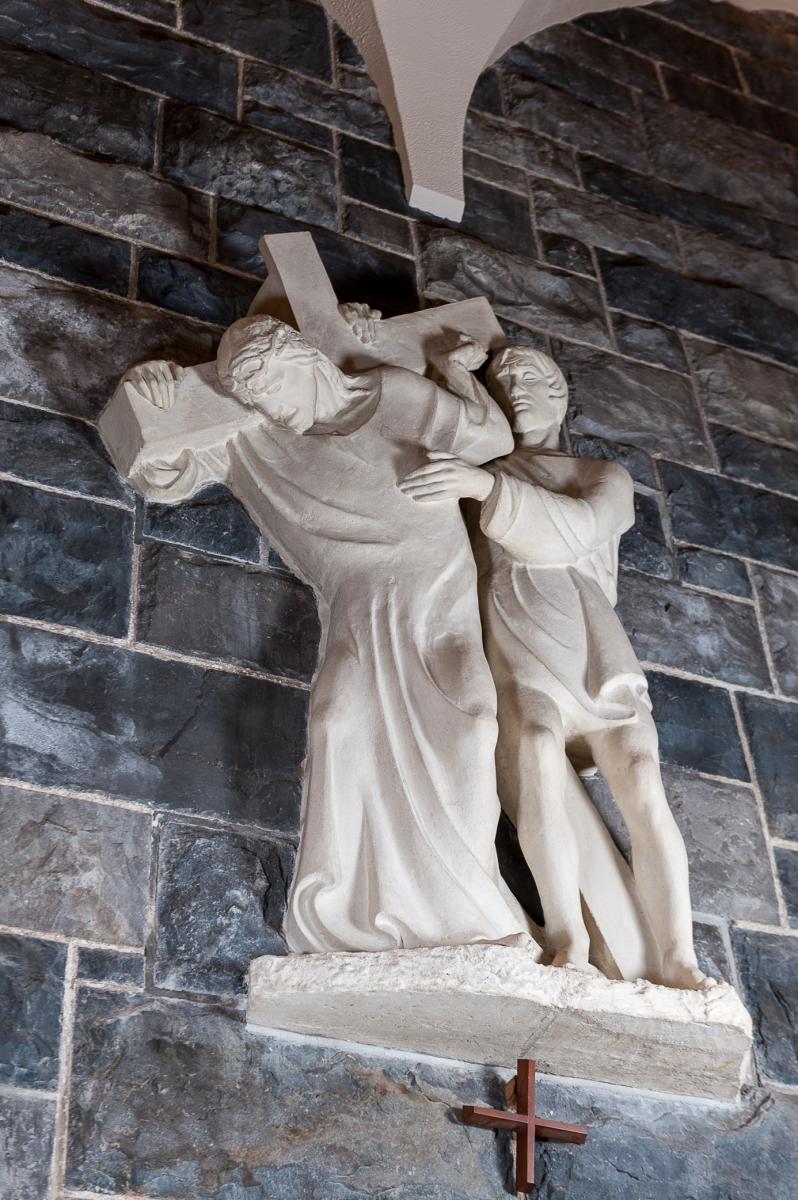 As they led him away they took hold of a certain Simon, a Cyrenian, who was coming in from the country; and after laying the cross on him, they made him carry it behind Jesus.
This sculpture shows the moment when Simon of Cyrene is in the process of taking the cross away from Jesus: Simon's right hand takes hold of the cross, while his left hand touches Jesus' side, as if asking him to let go. Simon looks both perplexed and distressed as his hands support both Jesus and the cross.
Thankfully, for a short moment, Simon of Cyrene puts Jesus out of His misery: Jesus is permitted to walk the rest of his Via Dolorosa without the burden of the cross.
Though he was forced by the soldiers to help (Matthew 27:32; Mark 15:21; Luke 23:26), Simon seems to have been the recipient of the great grace of conversion since we read the names of his two sons in St Mark's Gospel, Alexander, and Rufus, and the man called Rufus and his mother referred to in the Letter to the Romans may well be the son and wife of Simon (Romans 16:13). He followed Jesus not only on the way to Calvary but on the way of discipleship.
---
Simon has gone down in history as a prototype of helpers, of all those who lend a helping hand, a shoulder to cry on, a listening ear. He shows the way to those who work for the poor, the downtrodden, the homeless, the addicts. Organisations like SVP, Trocaire, Concern, Oxfam, follow in the footsteps of Simon as he followed in the footsteps of Jesus on his way to Calvary and then through a life of discipleship.
Reflection
Oh Lord, make my love for you and my neighbour grow in me; let my charity become second nature to me. Make me aware of other people's needs, and let me become a modern Simon of Cyrene, lending a hand wherever I can, without counting the cost. Like John the Baptist, let the Ego in me decrease, and let Christ increase in me.
Sixth Station: Veronica wipes the face of Jesus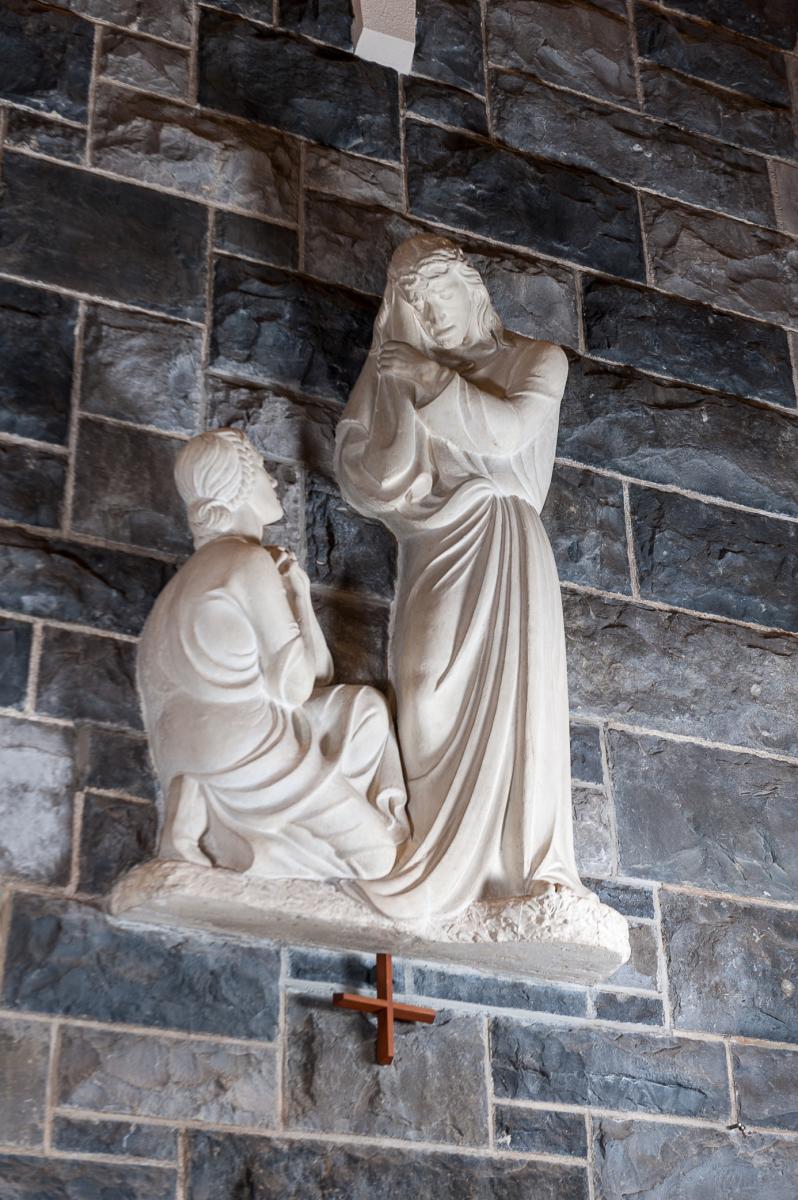 Different to the usual portrayals of the scene, this is a very natural and credible portrait of Jesus wiping his face with the towel as Veronica looks on in obvious compassion and distress. Nobody had to force Veronica to render assistance. There is a tradition recorded in the Talmud of noble women coming to the aid of persons on their way to crucifixion, offering them a drink. The story of Veronica rings true to that tradition. No woman was involved in the prosecution, trial, or execution of Jesus. Pilate's wife had tried in vain to warn him not to condemn Jesus. The traditional image on Veronica's towel represents the enduring gratitude of the sufferer, the face of the victim burned into the mind and heart of the onlooker who came to help and of the spectators appalled by the spectacle.
The Bible does not mention Veronica specifically, but it can be assumed that, among the many women who were present and accompanied Jesus on the road to Calvary, there was such a woman like Veronica who pitied Jesus, offering him her famous linen cloth, known as the vernicle or veil of Veronica. This veil with Christ's image imprinted on it by his blood and sweat is said to be encased in one of the pillars in St Peter's Basilica.
The sculptor, Gabriel Hayes, studied in great detail the Turin Shroud in order to get the correct image of Christ's face. This information has been documented by her daughter-in-law, Róisín Fant Ó Ríordáin. Deviating from the usual depiction of a straight cloth with the imprint of Christ's suffering countenance, Gabriel and Róisín decided to use a bundled cloth, shown in the sculpture. An exhausted Jesus is depicted at the moment of wiping his holy face, while Veronica, on her knees in her pain and compassion, is portrayed wringing her hands in utter helplessness.
---
In our world, we see the faces in the TV images and newspaper, photographs of the suffering people fleeing from war, persecution, and famine. These images have moved millions to compassion and humanitarian action.
Reflection
Jesus, while you walked on earth, you never hesitated to help whenever you saw someone in need. Let me become more and more like Veronica who handed you the linen cloth to wipe away your sweat, your precious blood, and your tears. Imprint your image onto my mind as you did on Veronica's linen cloth, and let me recognize you as my suffering servant, who gave up your life for me, your unworthy creature.
Seventh Station: Jesus falls the second time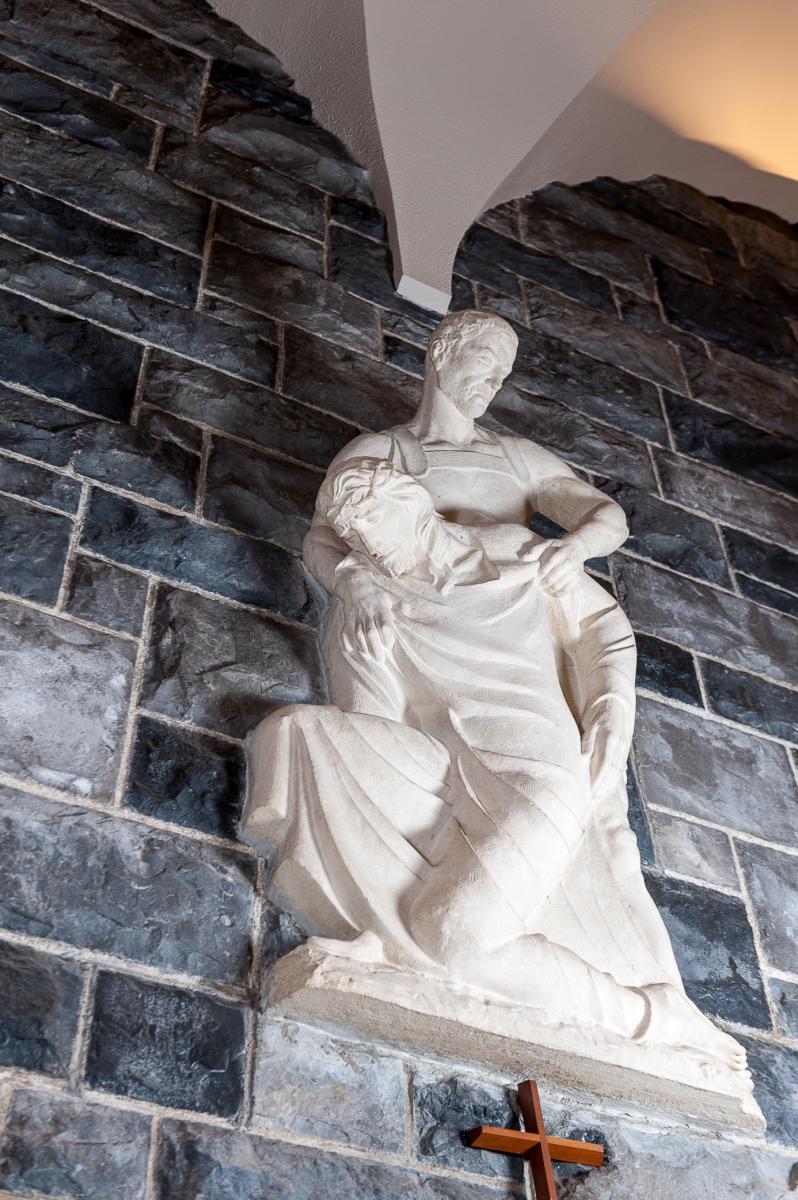 For just as from the heavens
the rain and snow come down
and do not return there
'til they have watered the earth,
making it fertile and fruitful,
giving seed to him who sows
and bread to him who eats,
so shall my word be
that goes forth from my mouth;
it shall not return to me void,
but shall do my will,
achieving the end for which I sent it.
There is a great contrast between the tall strong soldier getting Jesus back on his feet and the weakening state of Jesus as he falls for a second time.
Jesus is exhausted, his strength almost spent completely; he is stumbling forward in a daze, unaware of where he is going. He falls to the ground, being pulled up by a Roman soldier who is just doing his job completely unaware of Jesus' Divinity, not knowing that he is helping the Son of God. The soldier, nevertheless, tries to support Jesus by pulling him up by his shoulders. Jesus appears to be unable to get to his feet by himself.
As Jesus falls a second time we are again reminded of his human frailty and how he had 'emptied himself to take on the form of servant, accepting death, even death on a cross' (Phil 2:6-11).
---
As we see Jesus fall a second time we identify with the many times we ourselves think we have coped, got over the breakdown, kicked the habit, mended the relationship, turned over a new leaf, only to realize all too well that we have fallen again, caved in, broken down again, succumbed to the addiction. We know, however, that Christ is with us in our falling and rising.
Reflection
Jesus, Suffering Servant, give me the strength that You have had to get up and keep going when the way ahead seems to be insurmountable, and when I stumble even over simple, small obstacles on the road. Let me never lose the focus of my final destination, to be united with you after my earthly life is spent.
Eighth Station: Jesus comforts the women of Jerusalem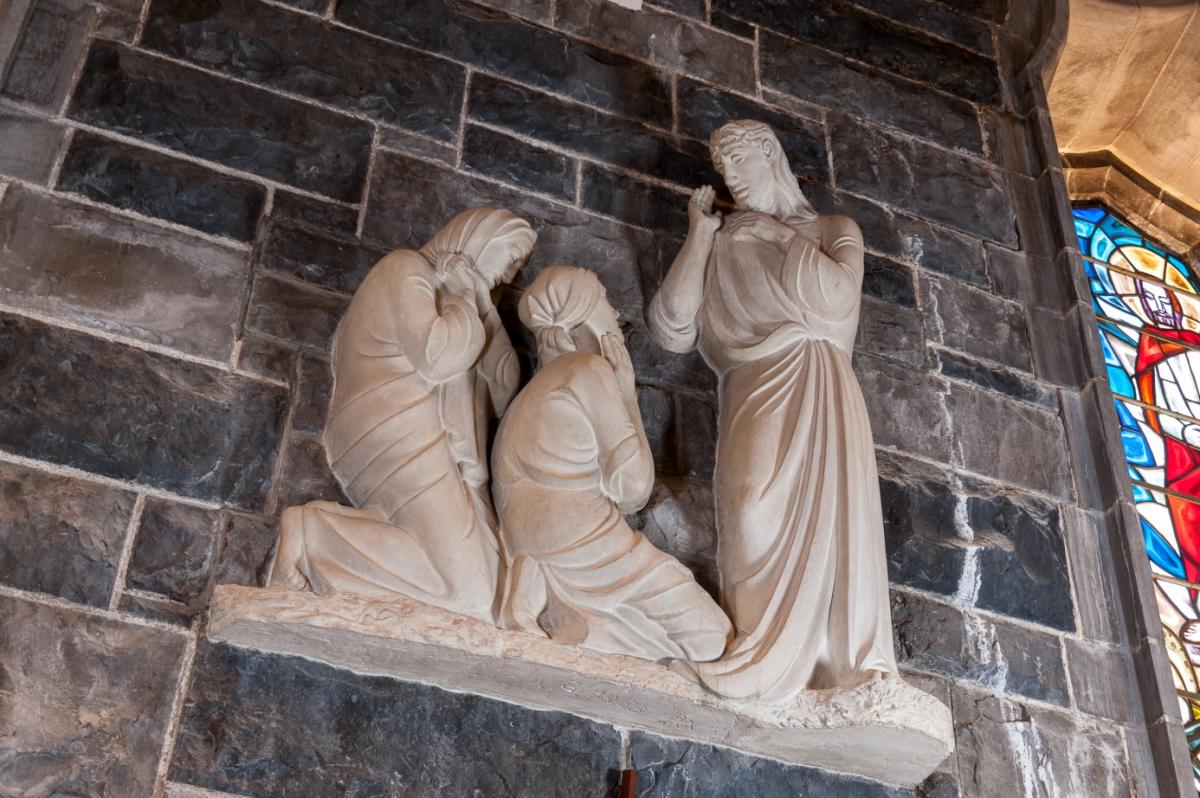 A large crowd of people followed Jesus, including many women who mourned and lamented him. Jesus turned to them and said, "Daughters of Jerusalem, do not weep for me; weep in-stead for yourselves and for your children."
Jesus' concern for the women is obvious as he looks at the representative older and younger woman.
The women present on the way of the cross are appalled spectators. They are moved to pity at the fate of Jesus whom they had probably witnessed firsthand or heard about as a healer, teacher, and prophet. However, Jesus turns the focus of sorrow from himself to a much greater cause of grief that will follow the rejection of the message of peace, the silencing of the peacemaker, resulting in the destruction of their city, with the death and enslavement of their children in the resulting upheaval.
The sculpture shows Jesus, turning towards the women, who have fallen to their knees, lamenting their long-awaited Messiah in such a pitiable state, Whom they had expected to come and free their nation from oppression. With his right hand raised, he seemingly tells them not to have any pity on him but rather to weep for themselves, foretelling their fate some 35-40 years hence, when their Holy City of Jerusalem would be razed to the ground.
---
Their sorrow will be repeated over the centuries as mothers see their children destroyed by the violent actions of the powerful and the racial hatred, sectarian conflict and land-grabbing that fill the pages of history and leave a legacy of war graves across the world.
Reflection
Lord Jesus, never let me forget that it is you alone who can save. Make me aware of my faults and failures; give me the strength to face the road ahead and help me to comfort others who are in need of my help and support.
Ninth Station: Jesus falls for the third time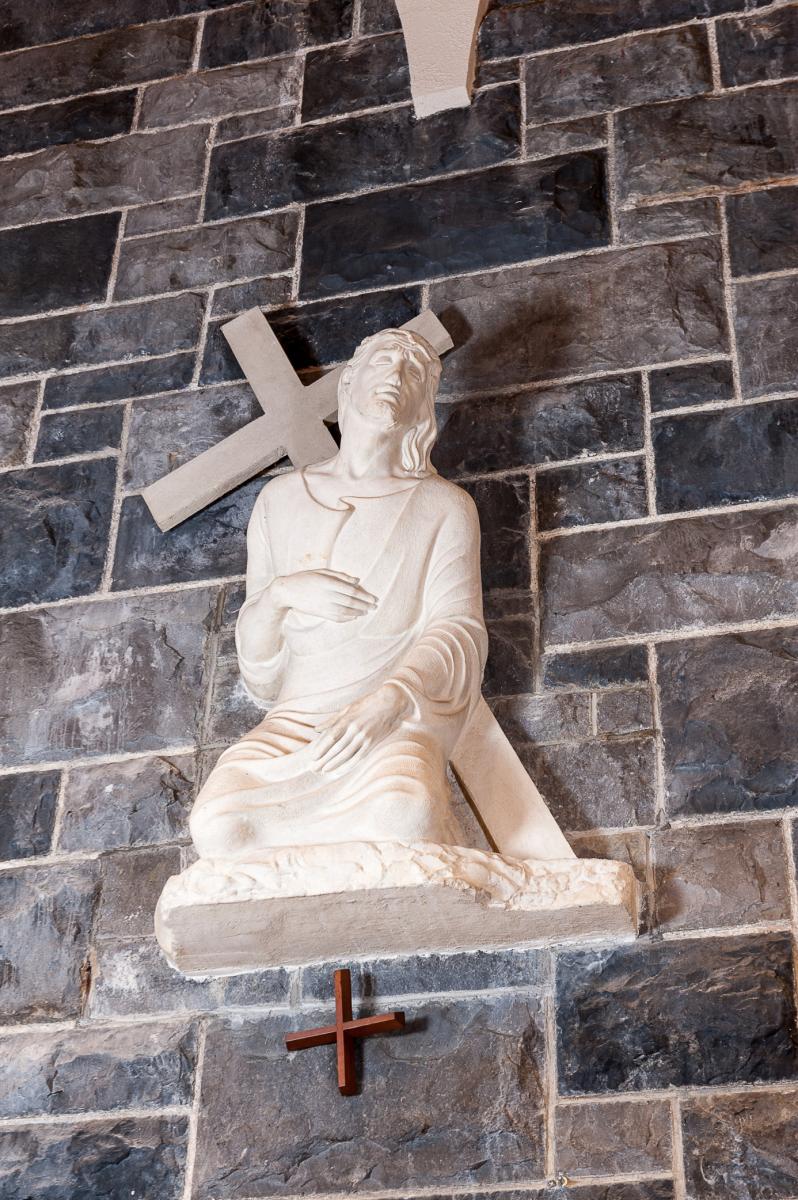 Amen, amen, I say to you, unless a grain of wheat falls to the ground and dies, it remains just a grain of wheat; but if it dies, it produces much fruit.
Not only the face of Jesus but his whole body reflects his utter exhaustion.
It seems the end has come. In the words of Psalm 22: 'Like water, I am poured out'. The fight for life and survival is ebbing away.
Róisín Fant Ó Ríordáin, the daughter-in-law of sculptor Gabriel Hayes, quoted in an article Gabriel had written to the Most Reverend Dr Michael Browne, Bishop of Galway:
I was not happy about the action of the left arm, in fact, it had too much action, was not limp and listless enough. So I broke it off and re-carved it three times before I was content with it. You see the whole figure had to express extreme exhaustion. He had fallen and is in the act of rising to his feet (unaided of course). He sags back on his knees, gasping for breath. I do hope that I have conveyed what was in my mind... it gives some idea of Christ's exhaustion at that time. I have the cross in the background, to suggest that now the final agony is near, and also from an artistic viewpoint, it balances the sag of Christ's body.
This statement says it all. The listless, limp left arm looks completely devoid of any strength, while his right arm, bereft of any power - like his left arm - appears to be in the act of falling down. Jesus' strength apparently is drained completely.
---
The final stages and last hours of a terminal illness are called to mind as we see Jesus collapse, completely worn out after his scourging and the exertions of his final journey.
Reflection
Lord Jesus, fallen down exhausted, let me give you all my strength to help you, to support you, to lift you up from the ground. Give me the strength to get up after each fall I have, and be my model for me in all I do.
Tenth Station: Jesus is stripped of his clothing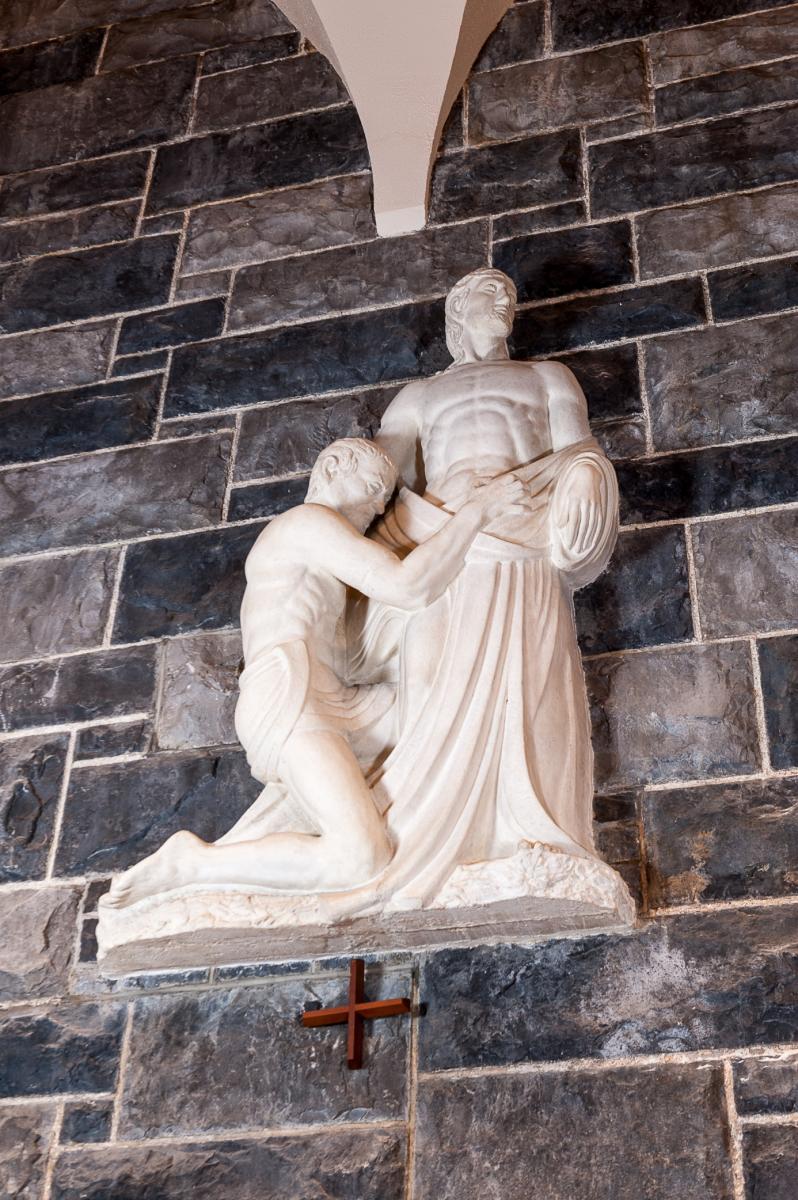 ...They took his clothes and divided them in four shares, a share for each soldier. They also took his tunic, but the tunic was seamless, woven in one piece from the top down. So they said to one another, "Let's not tear it, but cast lots for it to see whose it will be," in order that the passage of scripture might be fulfilled [that says]: "They divided my garments among them, and for my vesture they cast lots" (Psalm 22:18). This is what the soldiers did.
Jesus looks away in embarrassment as his clothes are stripped from him leaving him exposed to friend and foe alike. All his dignity is taken away by the cruel act committed by an apparently incurious soldier, who seems oblivious of the embarrassment he is causing by his action, especially in full view of all the women, including his mother, who are all looking on. Jesus looks away in shame, caused by his nakedness since only his loincloth is left to cover him. The soldier is shown in the act of taking down Jesus' tunic, 'seamless and woven in one piece from the top down' (John 19:23b).
Jesus suffers not only the physical pain of removing his clothes from his badly bruised body, but the deeper personal wound of invading one's privacy, dignity and honour reduce his status to that of a disgraced public spectacle subjected to the sniggering mockery of his enemies.
Dividing his garments and casting lots for his robe were the final despoiling of his identity and dignity. The words of psalm 22 are again called to mind: 'They divided my garments among them and for my vesture they cast lots.'
---
Here we can reflect on the experience of people who are stripped of their dignity and the integrity of their personhood by being sexually abused, raped and bullied.
Reflection
O Lord, let me never despair, especially when my reputation and dignity are stripped away by malicious slander or wagging tongues. Make me strong in my belief that the truth will win in the end, and that you, my Lord and Saviour, will come to my aid and redeem me.
Eleventh Station: Jesus is nailed to the cross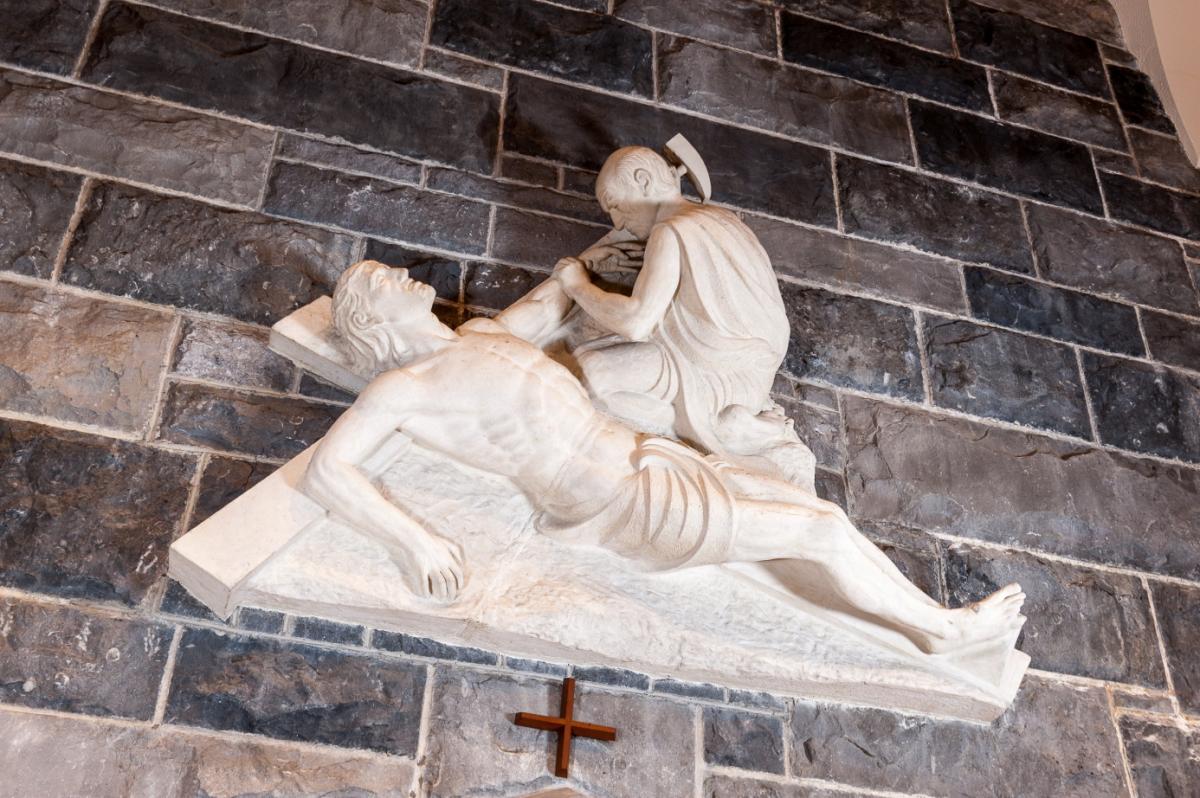 They brought him to the place of Golgotha (which is translated Place of the Skull). They gave him wine drugged with myrrh, but he did not take it. Then they crucified him [ ... ].
Looking at the figure of Jesus, and the soldier in the act of nailing Jesus to the cross, it is evident that he has neither sympathy nor feelings for Jesus: he is just doing the job assigned to him. Jesus, on the other hand, seems to groan with pain, his feet already fastened to the cross by a nail, while his left hand is in the act of being nailed to the cross. The agony of Jesus is seen in the expression on his face, the tension of his body and his right hand clawing into the earth, seeking relief for the excruciating pain He experiences.
Such utter barbarity to a human being, being nailed and tied to a cross! The gospels don't go into the details of crucifixion. There was no need to do so because crucifixion was so well known and universally feared. Writers like Cicero and Josephus comment on the barbarity of crucifixion.
The crucifixion of Jesus is played out against a background of mockery which is reaching into the soul to destroy the faith and hope of the dying person, as it negates his life's work, denies his identity and humanity and wipes out his following and his legacy.
True to his own teaching, Jesus spoke words of forgiveness and excuse as they nailed him to the cross: 'Father, forgive them for they know not what they do' (Luke 23:34). He looked beyond his own suffering to that of the repentant thief and responded to his plea to be remembered with the promise 'today you will be with me in paradise' (Luke 23:43).
---
Throughout history from the time of the Apostles, followers of Christ have been mocked, tortured, imprisoned and put to death.
Christians are being persecuted in many parts of the world today in an effort to rid the world of their presence and influence. Jesus had forewarned his disciples when He said: 'In the world you will have tribulation but be of good cheer, I have overcome the world' (John 16:33).
Reflection
O Lord, Saviour of the world, you were obedient to your Father in heaven and did not cling onto your divinity. Make me realize that I too am called to obedience to Our Father in heaven and that I should follow his commandments. My dear Brother Jesus, make love grow in me until, finally, I will be filled with that utter love you had for the will of your Father by giving up your life for the salvation of us all.
Twelfth Station: Jesus dies on the cross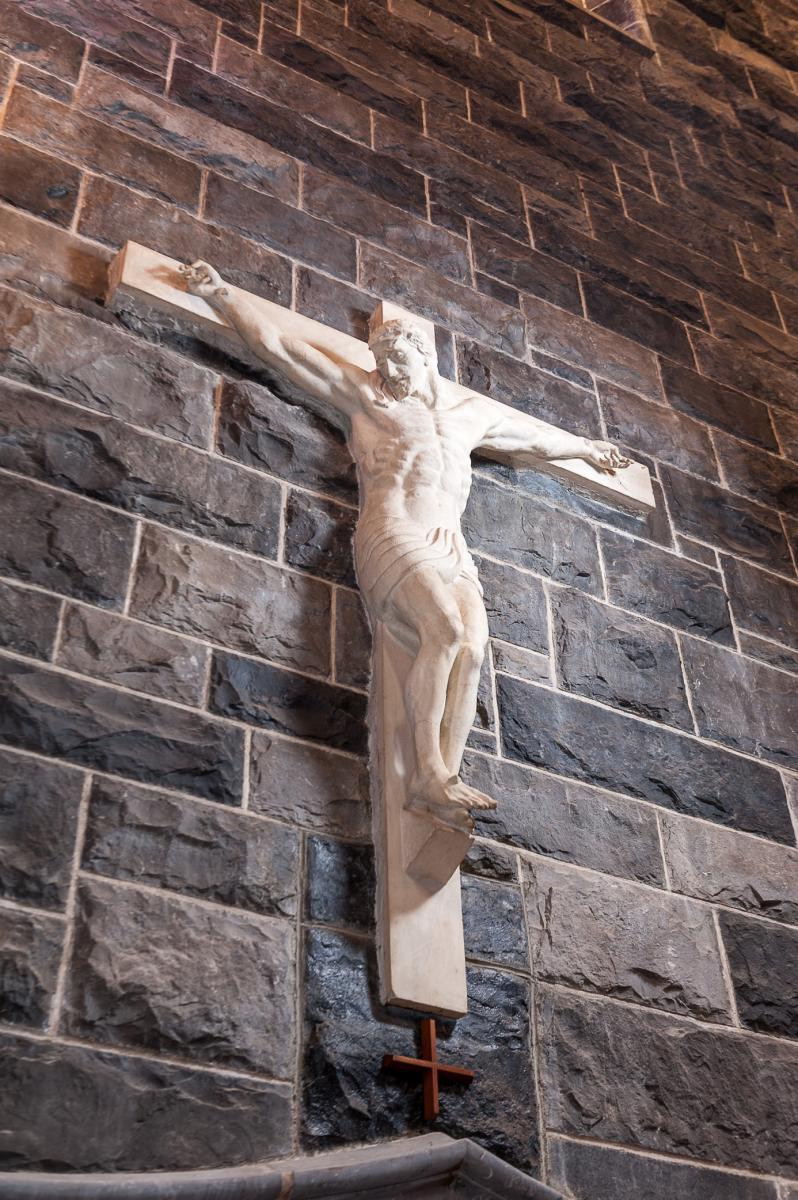 From noon onward, darkness came over the whole land until three in the afternoon. And about three o'clock Jesus cried out in a loud voice, "Eli, Eli, lama sabachthani?" which means, "My God, my God, why have you forsaken me?"
Looking at the figure of the crucified Christ it is noteworthy to observe his sacred head, tilted onto his right shoulder: he is still in the pangs of death and has not breathed his last yet. In John's Gospel we read that '[ ... ] he said, "It is finished"; and he bowed his head and gave up his Spirit' (John 19:30), hence his head slumped forward onto his chest after he had died. In addition, his right side has not been lanced either. So it is reasonable that the sculpture shows him just at that very moment when aware of his broken, frail and helpless human nature, he calls on his Father, crying out to him, "Eli, Eli, lama sabachthani?" (Matthew 27:46; Mark 15:34)
There is one more point to observe: Jesus is not nailed through the palms of his hands, but rather through his wrists. (Modern scientists argue that anyone being nailed through the palms, would cause the hands to tear by the sheer weight of the body on account of having no bone structure for support. Again, other scientists maintain that crucified bodies may have been held up in place by tying ropes around their wrists.)
Jesus' bowed head looks down on us as we take the place of the original group assembled at the foot of the cross.
St John's Gospel strikes a very touching note as the evangelist contrasts the brutality of the soldiers with the loving presence of his mother and her companions at the foot of the cross: 'These things the soldiers did, but on the other hand there stood by the cross of Jesus his mother and his mother's sister Mary the wife of Clopas and Mary of Magdala...' (John 19:25). Near his mother was the beloved disciple.
This little group was the nucleus of the messianic community, the extended family of Jesus in the Kingdom. He commits his mother to the care of the beloved disciple and at the same time entrusts the disciple to the care of his mother. The beloved disciple is unnamed as he represents all disciples of Jesus.
As he declares the mission given him by the Father finally completed: 'It is finished', Jesus leans over and commits the Spirit to the Father and to the representative community, the church at its birth, at the foot of the cross. We stand in continuity with that little group as Jesus gives us his mother and breathes the Holy Spirit on us, and the blood and water, flowing from his pierced side prefigure the life-giving sacramental life of the church.
In his death Jesus identifies with the poor, the abandoned, the suffering members of humanity as he recites the prayer of those who turn to God in desperation: "My God, my God why have you forsaken me?" (Psalm 22:1) and completes his prayer on the cross with the words of the psalm: "Father into your hands I commend my spirit." (Psalm 31:5)
Lifted up he draws all to himself, speaks forgiveness, promises a place in Paradise to the repentant man dying beside him and the manner of his own dying brings the centurion to faith.
Reflection
O Lord, who in the pangs of death called out to your divine Father, thinking that he had forgotten you, grant that I may never have to experience the pain of loneliness you endured before giving up your Spirit, handing it back to our heavenly Father. Give me the strength to always be able to do your holy will, even in the most harrowing moments I may have to endure in my life.
Thirteenth Station: Jesus is taken down from the cross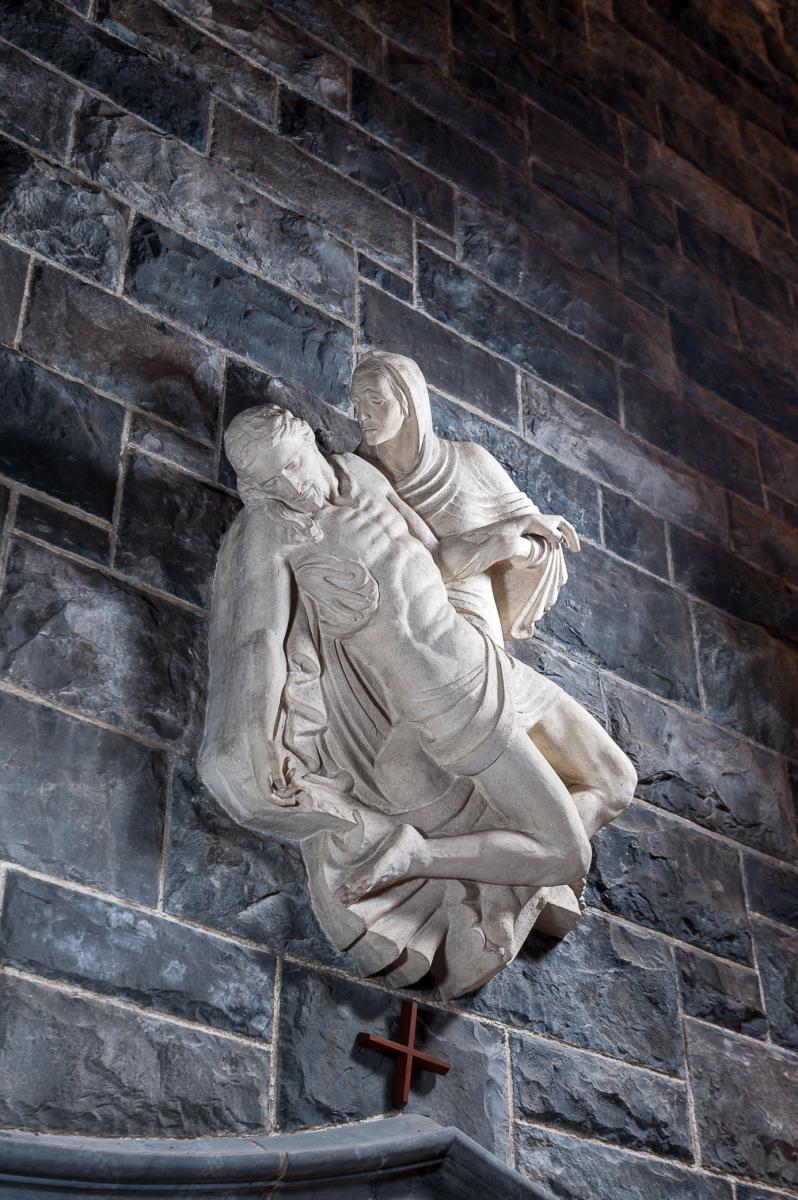 So the soldiers came and broke the legs of the first and then of the other one who was crucified with Jesus. But when they came to Jesus and saw that he was already dead, they did not break his legs, but one soldier thrust his lance into his side, and immediately blood and water flowed out.
They looked on the one they had pierced.
After this, Joseph of Arimathea, secretly a disciple of Jesus for fear of the Jews, asked Pilate if he could remove the body of Jesus. And Pilate permitted it. So he came and took his body.
This sculpture depicts Jesus after being taken down from the cross and laid in the arms of His mother – a scene captured in art and sculpture over the centuries, and here so tenderly executed.
It is heart-rending to see Mary's tender embrace in her agony, the way she holds Jesus' lifeless hand lovingly in hers. This is the very moment the prophecy of Simeon is fulfilled:
Behold, this child is destined for the fall and rise of many in Israel, and to be a sign that will be contradicted (and you yourself a sword will pierce) so that the thoughts of many hearts may be revealed.
All those present, those who brought about his death, those shocked and appalled who left the scene striking their breasts, the centurion, and those who remained to receive his body and prepare for his burial – all experienced that unique moment in the history of salvation (Matthew 27:54; Mark 15:39).
Already the death of Jesus was producing its effects. The fearful disciple, Joseph of Arimathea, emerged from the shadows and went to Pilate to ask for the body of Jesus, and Nicodemus who originally came to Jesus under cover of the night now emerged to assist with his deposition and burial. The mocking crowd returned to the city striking their breasts. The centurion whose cohort of soldiers had scourged Jesus and mocked his kingship now proclaimed him to be truly the Son of God.
Reflection
Lord Jesus, you have redeemed us sinners by your death on the Cross and by your shedding the last drop of your precious Blood, after the soldier opened your side and pierced your sacred heart. Let me never forget all the pain and agonies you had to endure during your sacred passion. Lord, make my heart grow more and more to resemble your sacred heart.
Most Sacred Heart of Jesus, I place all my trust in you!
Fourteenth Station: Jesus is laid in the tomb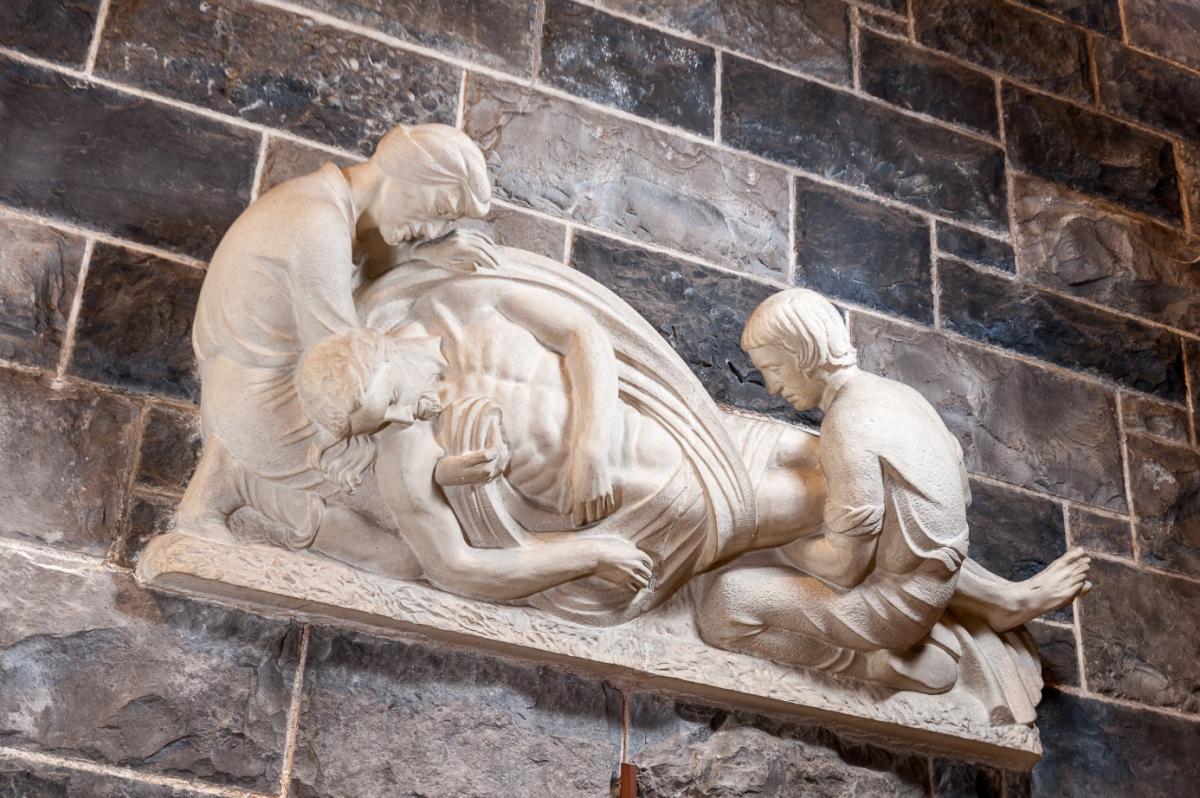 After this, Joseph of Arimathea, secretly a disciple of Jesus for fear of the Jews, asked Pilate if he could remove the body of Jesus. And Pilate permitted it. So he came and took his body. Nicodemus, the one who had first come to him at night, also came bringing a mixture of myrrh and aloes weighing about one hundred pounds. They took the body of Jesus and bound it with burial cloths along with the spices, according to the Jewish burial custom. Now in the place where he had been crucified there was a garden, and in the garden a new tomb, in which no one had yet been buried. So they laid Jesus there because of the Jewish preparation day; for the tomb was close by.
The two secret disciples of Jesus, Joseph of Arimathea and Nicodemus, are in the process of embalming and wrapping the body of Jesus in burial cloths.
There seems to be a tangible air of sadness pervading this sculpture, the two secret disciples lovingly handling the dead body of their master, almost as if expecting him to come alive again at any moment.
Pilate had the false charge against Jesus that he claimed to be a king displayed over his head on the cross in Hebrew (the local language), Greek (the spoken language throughout the empire) and Latin (the official language of the Roman government). Now Jesus is buried like a king in a tomb hewn from a rock where no one else had been buried, wrapped in linen and buried with a huge amount of spices – all signifying his royal status. The charge against him is ironically acted out in his burial.
The women observed the burial and the position of the body, obviously planning to observe more familial rites of anointing after the Sabbath.
The stone was rolled over the mouth of the tomb. It seemed like the final act in Jesus' life. But God spoke first, and last, and Jesus had foretold the triumph of God on the third day.
The women who saw Jesus crucified were the same women who saw him buried and discovered the empty tomb. Their witness to the death, burial, and resurrection is most likely the evangelists' primary reason for referring to their presence at the crucifixion. The close similarity of all three synoptic accounts seems to point to an ancient, well-rehearsed apologia for the Resurrection, emphasizing the fact that the same people had witnessed Jesus' death, had seen him placed in a clearly identifiable tomb and had later found that the tomb was empty. The story of these women and their presence on Calvary/Golgotha focuses on them as witnesses to the truth of the underlying facts surrounding the death, burial and resurrection of Jesus which found expression in the early kerygma learned by Paul and repeated in his First Letter to the Corinthians: 'I handed on to you what I had received myself, that Christ died for our sins according to the scriptures; that he was buried; and that he was raised to life on the third day in accordance with the scriptures' (1 Corinthians 15:3f).
Reflection
Sweet Jesus, after your passion and death on the cross, you now found peace and rest at last. Grant that, after I have run my earthly race, I may join you in your heavenly Kingdom, to be with you forever.
Fr Michael Mullins concludes:
Jesus' story is a universal story and the factors that happened to manifest themselves in a Jewish and Roman context would have manifested themselves in any human society. Jesus was handed over by a faithless disciple and friend turned enemy, a jealous, manipulating, religious authority, a judge who failed to administer justice and a hostile mob. The failure of discipleship, the abuse of friendship, the jealous protection of religious status, the ignoring of justice, the mindless hatred of a mob, the political expediency of an occupying power and the dutiful obeying of orders by the military, all contributed to the handing over of 'the King of the Jews' to a horrible and shameful death. All human life was there just as it has been in all societies throughout history. Sinful humanity through its representatives on that specific occasion crucified 'the King of the Jews'. But theirs was neither the last word nor the last act in the drama. Very soon Jesus' followers would be proclaiming: 'You put him to death, but God raised him to life' (Acts 2:23).