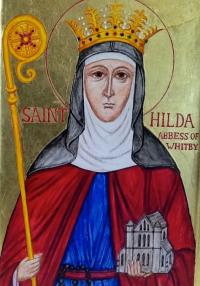 Feast day: 17 November
St Hilda (614-680) came from a royal family and was brought up in the court of her great-uncle Edwin of Northumbria. Edwin was a widower and married Ethelburga of Kent, daughter of Ethelbert of Kent, whose kingdom had been the base for St Augustine of Canterbury's mission to England. King Edwin was baptized on Easter Day 627, together with the thirteen-year-old Hilda and the rest of the court. The ceremony took place in a small wooden church which had been constructed for the occasion. Queen Ethleburga had been accompanied by Paulinus of York, a Roman monk who had been sent to assist St Augustine. When her husband Edwin was killed in battle, Paulinus accompanied the Queen and her daughter to Ethelburga's original home in Kent. Here she founded a convent at Lyminge and presumably Hilda remained with her. There is nothing known about her between the years of 627 and 647.
At the age of 33 Hilda decided not to join her widowed sister, who was a nun in Gaul, but instead answered the call of Aidan, Bishop of Lindisfarne, and returned to Northumbria to live as a nun. The site of Hilda's original convent is not known except that it was on the north bank of the River Wear. Here she learnt the traditions of celtic monasticism, which Bishop Aidan brought from Iona. He then appointed her Abbess of Hartlepool Abbey. No trace of this remains but its monastic cemetery has been found near the present St Hilda's church, Hartlepool. In 657 she founded Whitby Abbey, then known as Streoneshalh, and remained there till her death in 680. The monastery was in celtic style. with houses for two or three people. It was a double order, with the men and women living separately but coming together for worship. Monastic ideals were observed strictly there, goods were shared in common and there was a focus on bible study and good works. It was a centre of scholarship and the abbess built up an extensive library. Five men from this monastery became bishops and two saints, namely John of Beverly and Wilfrid of York.
We get our information about Hilda from Bede in his Ecclesiastical History of the English People (731). Bede was born eight years after the death of Hilda. He described Hilda as an energetic woman, who was skilled in administering the lands around the monastery, where sheep and cattle were farmed and wood was cut. Her advice was sought by kings and princes and she was responsible for encouraging the cowherd Caedmon, who had a dream where he was invited to write verses in praise of God. He became the earliest named English poet and Bede describes one of his works in his history.
Her monastery was chosen by King Oswin of Northumbria for the important Synod of Whitby. At this time there was a growing dispute between the Roman and Celtic churches over their practices. The latter were less structured and often tended to wander from place to place, founding monasteries and engaging in missionary work. They relied on monasteries and regarded the abbot as pre-eminent, whereas the Roman church followed an organization based on the bishop and cathedral. The main problem however was the calculation of the date of Easter. Hilda, influenced by her friend St Aidan, wanted to follow the celtic tradition, but they bowed eventually to accepting the Roman date for Easter.
Hilda suffered from fever in the last seven years of her life. She set up another monastery fourteen miles from Whitby at Hackness. She died in 680 and it is said that at her death the bells of Hackness tolled. There is a legend that when seabirds fly over the abbey, they dip their wings in honour of St Hilda.
The abbey was destroyed by Danish invaders in 867. After the Norman conquest the abbey was refounded by monks of Evesham but for men only. It continued to the dissolution of the monasteries under Henry VIII. The Norman abbey is now a ruin and sailors use it as a landmark. Hilda is regarded as a patroness of learning and particularly of womens' education. A woman's college at Oxford is named after her.
St Hilda of Whitby, pray for us.