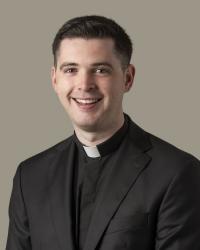 We are delighted to welcome Fr John Gerard Acton, who took up his appointment as curate at Galway Cathedral on 1 September 2021.
A native of Moycullen, Co. Galway, Fr John Gerard was ordained to the priesthood in the Cathedral on 1 August 2021, so this is his first appointment.
He replaces Fr Martin Whelan, who has been curate in the Cathedral for the last twelve years. Fr Martin remains in his role as Diocesan Secretary, but leaves the curacy in the Cathedral parish to take up a new role working with second-level schools in the diocese. We wish him every blessing and success in his new job.