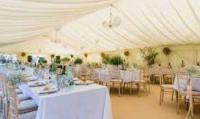 Imagine being invited to a party and not only refusing to come but attacking those who were sent to deliver the message! Over the past weeks Jesus has been telling parables that illustrate the failure of the chosen people to play their part in the Covenant with God. Matthew wrote for a community of Jewish Christians who eventually were expelled from the synagogue. His version of the wedding feast is far harsher and  more violent than that of Luke (Lk 21:15-24). It might be that the evangelist saw the Jews who did not recognise Christ punished by the fall of Jerusalem in 70 AD. The passage is also placed after the triumphant ride into Jerusalem near to the passion of Jesus.
A banquet or wedding feast is a common theme to describe God's relationship with his people. Isaiah describes the abundance of God's gifts as rich food and fine wines. The same symbol is used in the story of the wise and foolish virgins, which is a warning to be ready for the Lord's coming. Today's reading reminds us that we are all invited to the banquet the Father gives for His Son. However a wedding is a union of people who commit themselves to each other in love.
"If you love me you will keep my commandments" (John 14:15)
Perhaps the man who was not wearing a wedding garment represents those of us who are not really prepared for this kind of love. God's invitation continues throughout our lives preparing us for the time when we will joyfully take our places at the marriage supper of the Lamb (Apoc. 19:9).