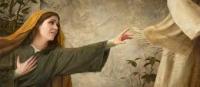 Today's gospel is a strange story. Picture Jesus merciful and compassionate, refusing to even acknowledge - let alone speak to - a distraught mother who pleads for her daughter to be cured. However this incident seems to carry many lessons. Jesus has just come from debating with the scribes and the pharisees. These are the leading representatives of the chosen people, who claim to be strict observers of the Law, by their assiduous attention to ritual cleansing. Jesus however points out how they manipulate this very Law, to avoid family responsibilities, which of course is breaking the commandment "Honour your father and your mother."
Jesus withdrew near to or within pagan territory. There he is confronted with the mother. Jesus appears to have considered that his mission was only to the Jews. However he has already predicted, with the healing of the centurion's servant (Matt 8:5-14), that many will come from east and west and eat with the patriarchs, while the heirs of the kingdom will be cast off. Perhaps the evangelist wants to contrast the faith of the Canaanite woman with these very heirs. There is also the fact that the Jews were the chosen people and, as Jesus said, "Salvation comes from the Jews" (John 4:22). Therefore the crumbs from their table fall to feed the gentiles. The term "house dog" would suggest that in fact the pagans are like family pets; they are part of the household.
The woman is not in the least put off by Jesus' response. She is like the widow in the parable of the unjust judge (Luke 18:1-8): she is not going to stop begging for help and she is going to use all her resources to get what she wants. Jesus must have admired her tenacity, her humility and even her wit and have been heartened by her faith, after the rejection he had experienced from his own people.