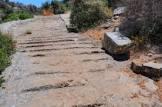 Jesus has already started preparing his disciples for his coming death, and is setting out for Jerusalem. He had talked about entering through the narrow gate (Matt. 7:13-14), which means not taking easy options, and he was now entering that gate himself. The people who approached him as potential followers probably did not realise the cost of discipleship. In the reading from the Old Testament, Elijah made it clear that the call to Elisha to be a prophet had to be answered immediately, without making any last farewells. Elisha made a clean break from his old life by killing the oxen and roasting them in the plough. Jesus made the reference to the plough, knowing that leaving the old life is made harder by returning briefly to familiar ways even if is only to say goodbye.
In his masterpiece The Pilgrim's Progress, John Bunyan describes Christian's journey to the celestial city by recounting all the hurdles he has to overcome when he meets characters such as Mr Worldly Wiseman, Giant
Despair and the Flatterer. It is a colourful allegory of the journey of a disciple, highlighting the pitfalls in everyday life. However, Bunyan also shows how the pilgrim is helped on his way by Evangelist, Interpreter, the people at Palace Beautiful and the Shepherds. It is the same for us, as Jesus promised to be with us till the end of time.
St Teresa of Lisieux followed what she called the "Little Way," realising that her life - like that of most people - was ordinary and that discipleship for her was showing love in everyday encounters. One example of this was the friendship she showed to a fellow sister whom she found coarse and unattractive. The nun felt very special in being the object of so much kind attention. When she was dying, Therese had a vision of Mother Anne (Ana de Jesus), who brought the reformed Carmelites to France. Therese asked her if God asked no more of her than the unimportant little sacrifices that she made. Mother Anne reassured her that God asked no more and that he was well content with her. We can be encouraged in our own journeys by that reply.