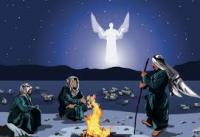 Today we light the third candle on the Advent wreath, called the Shepherd Candle. In the past two weeks we have reflected on people waiting for the Lord's coming: the prophets and Mary and Joseph. Today we think about the shepherds, patiently watching their flocks, waiting for the long night to be over, a night that would quite unexpectedly bring them tidings of great joy. "Gaudete" means rejoice, and it is the theme of this Sunday's liturgy. The vestments and newly lighted candle are rose instead of purple.
The evangelist John traces Jesus' origin further back than any of the other gospels to the Word who would become flesh, co-existing with the Father from all eternity.
"In the beginning was the Word and the Word was with God and the Word was God." (John 1:1-2)
John uses the image of light to describe the presence of the Lord, and darkness to describe his absence. During a power cut we often stumble and lose our way, even in familiar surroundings. We are helpless without the light. John depicts the Baptist (though he never uses that term) as a witness to this light rather than as a forerunner. He talks about him as Son of God and how he saw the Spirit descend on him. John had the clear understanding of himself as being sent by God to testify to the identity of Jesus; thus he did not allow himself to intrude in any way on this revelation, letting Jesus shine forth in all his glory.
"Look here is the Lamb of God," he exclaimed (John 1:36).
When his disciples left him to follow Jesus, he was able to fade back into the shadows and eventually die a martyr for his fidelity to the truth.