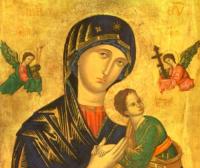 The 2023 Solemn Novena to Our Lady of Perpetual Help takes place from Monday 6 March until Tuesday 14 March.
The novena sessions are as follows:
Monday-Saturday: 11:00am, 1:10pm, 7:30pm
Sunday: 10:30am, 12:30pm, 3:00pm, 6:00pm
Confessions daily for an hour before and after each session (except on Sunday).
Sacrament of the Sick on Saturday 11 March during the 11:00am session.
Blessing of Families at all Sunday sessions.
Guided Holy Hour by candlelight nightly, 8:30pm - 9:30pm (except Saturday & Sunday)
Live Streaming: The last session each day will be live-streamed on the Cathedral website, YouTube and Facebook.
Daily Programme
---

Day 1 // Monday 6 March
Sharing faith in the family (Brian & Lana O'Driscoll)
Brian & Lana have been married for six years, They now have four children and live in Co. Donegal where Brian works as Director off Pastoral Renewal for the Diocese of Raphoe.
---
Day 2 // Tuesday 7 March
Sharing faith in a time of uncertainty (Fr Brendan O'Callanan CSsR)
A Redemptorist since 1964 and ordained in 1972, Brendan has worked in South America (Brazil and Suriname) as well as in Ireland. Having recently moved from Esker in Co. Galway, he is now a member of the Redemptorist community in Dundalk.
---

Day 3 // Wednesday 8 March
Sharing faith with the young (Paula McKeown)
Paula is Director of the Living Church in the Diocese of Down & Connor. She has recently been appointed as deputy chair of the Synodal Pathway for the Catholic Church in Ireland.
---

Day 4 // Thursday 9 March
Sharing faith with with those who struggle (Keith Fahey)
Keith was born in Dublin and his background is in professional sport. He has played soccer in the English Premier League and the League of Ireland, and has 16 Irish caps. He came to the faith through a process of struggle and surrender.
---

Day 5 // Friday 10 March
Sharing faith in worship (Daniella Stephens)
Daniella is a young Catholic evangelist from Manchester. She has worked for the Church in various capacities including education, administration and youth ministry.
---

Day 6 // Saturday 11 March
Sharing faith in changing times (Niall McDonagh)
Niall was born in London and as a young teenager moved to Galway City. After a number of family tragedies, an encounter with the living God transformed his heart and set him on a new path. His ministry to the homeless, drug addicts and pioneers has taken him on various missions around the world.
---

Day 7 // Sunday 12 March
Sharing faith as a church (Bishop Michael Duignan)
Bishop Michael is a native of Athlone. He was installed as Bishop of Clonfert in 2019. In 2022, in addition to his duties in Clonfert, he was installed as Bishop of Galway & Kilmacduagh and Apostolic Administrator of Kilfenora.
---

Day 8 // Monday 13 March
Sharing faith with those who grieve (Mickey Harte)
Mickey has guided Tyrone to three All-Ireland senior titles in the past decade. A strong Christian, he often speaks about his faith and life journey including the tragic loss of his beloved daughter Michaela.
The poem read by Micky Harte, There are moments in life by Craig Schaber, is available online.
---

Day 9 // Tuesday 14 March
Sharing the faith - a call to mission (Gerard Hanley)
A Galway man, Gerard now lives in Dublin with his wife and family where he works with Alpha Ireland. After encountering Jesus on a school retreat in 2005 he began his walk with the Lord.