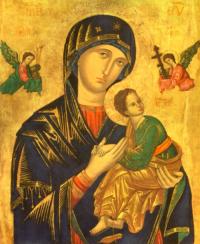 The annual Solemn Novena to Our Lady of Perpetual Help resumes this year. It begins on Monday 21 February 2022, and runs until Tuesday 1 March.
This year, it takes the form of an online novena - no congregation will be present in the Cathedral. It can be viewed on our novena page.
There are two sessions daily, at 9:30am and 7:30pm (9:00am and 7:30pm on Sunday).