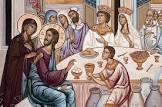 It is refreshing to hear a story about Mary told in scripture. Only Luke and John bring Mary to life as a person and allow her to speak. Devotion to Mary can sometimes build up a picture of her that is in danger of becoming a pious fantasy. The basic fact is that Mary was a Jewish woman who faithfully observed the Law and lived a quiet life in Nazareth as a wife and mother. She was a woman of great faith, who gave God what he asked of her. She was also someone who was sensitive to the needs of other people. In her person she brought together all that was best in the history of Israel.
It is probable that Mary was close to the young couple whose wedding was being celebrated, since since she was aware that the wine was running out. Mary being a woman of faith put the situation in the hands of her son. Even when he seemingly rebuffed her, she persisted but did not try to solve the problem herself. Jesus seemed reluctant to act. His life in Nazareth must have been very happy. Once his public ministry began it would change irrevocably. Mary would have been fully aware of this too and it must have taken great courage to initiate a chain of events that would take her beloved child from her. Maybe Mary even felt she had to give Jesus a little push to encourage him to begin the mission that he was sent to accomplish.
The lesson for us is that Jesus can turn our water into wine if we let him. When we put our problems into his hands as Mary did we find solutions that are far better than ones we would have thought of ourselves.