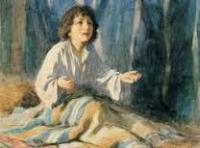 Eli's advice to Samuel was very wise. To the voice that spoke in the night he told him to say: "Speak Lord, your servant is listening."
Prayer consists of listening as well as talking. Samuel's calling was a gradual one. His mother Hannah had dedicated him to God but then as a young boy he heard him too, preparing him for his later mission as a prophet. Similarly in today's gospel Andrew and the other disciple were invited by Jesus to see where he lived. They had obviously been searching with John the Baptist and were now learning about Jesus and his message. We are told they stayed with him for the rest of the day, presumably listening carefully to what he had to say and probably asking a lot of questions. John's narrative differs in emphasis from the synoptic gospels, where disciples were called and dropped everything to follow Jesus immediately.
There are people in our lives whose goodness acts for us a signposts pointing to God. They can be our favourite saints, whose qualities we admire and want to imitate, or relatives, friends, celebrities or passers-by on our journey, whose values guide us in the right direction. John the Baptist was one of these. Jesus himself described him as a "burning and shining lamp" (John 5:35).
We pray for burning and shining lamps that will inspire us, after a week where we have been overwhelmed by voices inciting hatred and violence and the dark shadow of a shameful past.