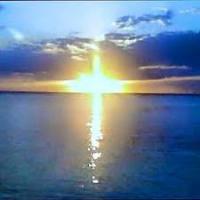 "The people who walked in darkness have seen a great light." (Isaiah 9:2)
The picture of the sun rising in the dawn over the dark blue sea can be seen as an image of Christ, as he penetrates the night of our lives. The evangelist John uses light and darkness as a backdrop to describe the coming of the promised Messiah into the world. God had spoken through his prophets but now he could speak directly through a person, who was his Word. Human beings have a tendency to look to celebrities and famous people as role models, so as to emulate and attain the qualities they see in their heroes and heroines; however, it is only by looking at Jesus, God incarnate, that we can truly discern the way to live.
"The true light, which enlightens everyone, was coming into the world." (John 1:9)
He continues to be with us even in our darkest moments.
"For we do not have a high priest who is unable to sympathize with our weaknesses..." (Hebrews 4:15)
O Christ Jesus
when all is darkness
and we feel our weakness and helplessness,
give us the sense of your presence,
your love and your strength;
help us to have perfect trust
in your protecting love
and strengthening power,
so that nothing can frighten or worry us,
for, living close to you,
we shall see your hand,
your purpose, your will through all things.
Amen.

(St Ignatius Loyola)