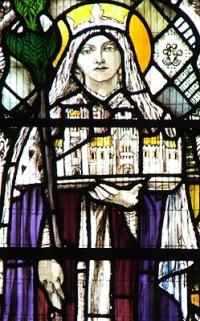 Feast day: 23 June
St Etheldreda (636-679), also known as Aethelthryth or Audrey, was born in Exning, near Newmarket in Suffolk. She was one of the four daughters of Anna, King of East Anglia. All four were later to found abbeys. Anna was a Christian who did much to achieve the conversion of his own kingdom and that of Wessex. Etheldreda wanted to be a nun but she was married against her will to Tondbert, King of Gyrwe, an East Anglian sub-kingdom in the Fens. As part of the marriage settlement Tondbert gave his wife an estate called Elge, afterwards Ely. Etheldreda was allowed by her husband to live as a nun during the three years of their marriage. During that time her father Anna was killed by Penda of Mercia and succeeded by his son Aethelhere.
After the death of her husband Etheldreda settled on her estates at Ely, intending to spend the rest of her life as a religious. However in order to secure an alliance with the powerful kingdom of Northumbria, as a defence against Mercia, Etheldreda married Egfrith, the second son of the King. He was little more than a child and looked on Etheldreda more as a mother figure and mentor. In 670, when he was 24, Egfrith became king. Meanwhile, Etheldreda sought the company of monks and nuns. She bestowed many gifts on St Cuthbert, the young prior of Lindisfarne, for his monastery. She made a stole and maniple for him which she embroidered. She was also a friend of St Wilfrid and gave him land in Hexham.
Egfrith, who until then had been content to let Etheldreda live a celibate life, now wanted to live with her in a marital relationship. He enlisted the help of St Wilfred, offering him bribes; however, though the latter seemed to support him, in reality he encouraged Etheldreda to keep to her vows and even to leave court. This resulted in acrimony between the king and Wilfred. Egfrith attempted to forcibly remove his wife from the cloister but she fled to the protection of Egfrith's aunt Aebbe who was abbess at Coldingham. Aebbe, realising that it would be impossible to shelter Etheldreda from her own nephew, advised her to return to her lands at Ely, which she did. Egfrith almost caught up with her, but when she fled to Colbert's Head the tide rose to an unusual height and Egfrith, unable to reach her gave up his pursuit.
Etheldreda built a double monastery on her lands at Ely. Wilfred made her abbess and. became her advisor. She remained abbess for seven years, living an austere life. She died of a quinsy on the neck in 672 which she regarded as a punishment for having worn fine dresses and necklaces in her early years. Her sister Queen Sexburga of Kent had her remains removed from the tomb in 696 and they were found to be incorrupt with a youthful freshness in the face. She was reinterred at the new church at Ely. Her abbey became rich and famous: it was constituted as a cathedral in 1109 and thereafter the abbot and bishop were the same person.
There were many medieval writings about Etheldreda. In London St Etheldreda's church in Holborn is pre-reformation as it was used for worship by the Spanish ambassadors.
 
St Etheldreda, pray for us.