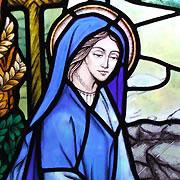 Feast day: 3 November
St Winifred (Gwenffrewi in Welsh) was born around the year 600 AD. She was the daughter of a chieftain of Tegeingl, a Welsh nobleman called Tyfid ap Eiludd. Her mother was Wenlo, sister of St Beuno and a member of a family closely associated with the kings of South Wales. A Welsh prince, Caradog, wanted to marry her, but Winifred told him she had decided to become a nun. He was infuriated and he cut off her head. In one version of the story her head rolled downhill and where it stopped, a healing spring appeared. She was restored to life and her head was rejoined to her body by the efforts of her uncle, the abbot St Beuno. It is said that before he left the spot he seated himself on the stone by the pool and promised in the name of God that "whoever on that spot should ask a benefit from God in the name of St Winifrede would obtain the grace he asked if it was for the good of his soul."
Winifred became a nun and later abbess at Gwytherin in Denbighshire, having received inspiration to leave Holywell and travel inland. She is also said to have made a pilgrimage to Rome, which influenced her to call a synod on religious life. Many of the accounts of Winifred's life are legend but there does seem to be historical evidence for the existence of this saint.
After her death Winifred was interred at her abbey. In 1138, relics were carried to Shrewsbury to form the basis of an elaborate shrine. It was destroyed by Henry VIII in 1540.
Winifred has been venerated as a saint ever since her death. Her well at Holywell (Treffynon in Welsh) has been a place of pilgrimage and healing, the only place in Britain with a continuous history of pilgrimage for over thirteen centuries. King Henry V gave thanks there for his victory at Agincourt. Lady Margaret Beaufort, mother of Henry VII, erected a chapel to enclose it. The well itself, originally formed from a mountain spring, is housed below the town on the side of a steep hill in the shrine of St Winifrid. In 1917, due to mining, the well ran dry but water was soon restored.
St Winifred's Well is mentioned in the medieval poem Sir Gawain and the Green Knight. The accounts of her life were written long after her death. One was by the Benedictine Abbot of Shrewsbury in around 1138, when Winifred's relics were transferred there. That manuscript is in the Bodleian Library and the other - supposedly by St Elwy, a British monk - is in the British Museum. Recently a fragment of an eighth century reliquary was found at Gwytherin giving added authenticity to her status as a saint.
Pilgrims going to Hollywell go through rituals of bathing three times in the inner bath, reciting a decade of the rosary, and then go to the outer pool to complete their prayers, kneeling on St Beuno's stone. Holywell has been described as the Lourdes of Wales.
 
St Winifred, pray for us.