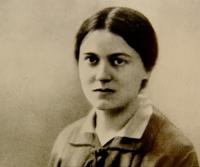 Feast day: 9 August
Edith Stein (1891-1943, who became Sister Teresa Benedicta of the Cross, was born in 1891 into an observant Jewish family in Breslau (now Wroclaw, Poland). She was the youngest of eleven children and her birth coincided with Yon Kippur, the holiest day of the Jewish calendar. This seems to have made her a particular favourite of her mother. Her father, a timber merchant, died when she was just two years old. She was a gifted child and her mother encouraged her critical thinking. Edith admired her mother's strong religious faith, but by the time she was a teenager she had become an atheist. Her mother was determined she should have a good education and sent her to study at the university of Breslau. However, her real interest was philosophy and women's issues. She became a member of the Prussian Society for Women's Franchise. In 1913 she arrived in Gottingen and studied for a summer semester with Edmund Husserl. By the end of the summer she decided to work for a degree under Husserl, and "Empathy" became her chosen subject for a thesis. The outbreak of World War I interrupted her studies and she served as a volunteer Red Cross nurse in a hospital for infectious diseasesfinally taking her degree in 1915. In 1916 she moved to Freiburg in order to complete her dissertation on empathy which she did with distinction. She worked as Husserl's assistant. Husserl had a new view of reality. His phenomenology unwittingly led many people back to God. She also met the philosopher Max Scheler who directed her attention to Roman Catholicism.
She had an experience in Frankfurt cathedral, where she saw a woman with a shopping basket going in to pray. She had never seen this in a synagogue or Protestant church where people went in only for services. Here however was someone who had paused in her everyday routine to have what seemed to be an intimate conversation in the sacred space. It made a deep impression on her. She became friendly with Husserl's assistant Reinach and visited his widow when he was killed. The Reinachs had converted to Protestantism and Edith began to experience through her friend the mystery of the Cross.
She wanted to obtain a professorship but that was impossible at the time for a woman and later she was refused advancement because of her Jewishness. She parted from Husserl because she wanted to work independently. She read widely, studying the New Testament, Kierkegaard and St Ignatius of Loyola's Spiritual Exercises. She also read the autobiography of St Teresa of Avila and this finally prompted her conversion to Roman Catholicism. She said to herself when she had finished reading the book: "This is the truth."
She was baptized on January 1 1922, the Feast of the Circumcision, when Jesus entered into the covenant of Abraham. She said: "I had given up practising my Jewish religion when I was a fourteen year old girl and did not begin to feel Jewish again until I returned to God."
After her conversion she went straight to Breslau. "Mother, I am a Catholic," she said. Her mother was unable to accept her conversion. She could respect Christ but could not believe that he was God. The rift was permanent though Edith continued to write to her mother.
She was dissuaded from immediately entering religious life by her spiritual advisers because it was felt that it would be too much of a blow to her mother and also Edith was invaluable as a public speaker. She obtained a position at the Dominican nuns' school in Speyer from 1923 10 1931. In 1932 she became a lecturer at the Catholic Church affiliated Institute for Scientific Pedagogy in Münster but she was forced by the anti-semitic Nazi government to resign her position. She wrote a letter to Pope Pius XI asking him to denounce the regime. She received no reply but the Pope published an encyclical in 1937 in which he criticised Nazism, the violations of the Concordat between Germany and the Church of 1933 and anti-Semitism.
She tried again in vain for a professorship and did translations of Cardinal Newman's letters as well as work by Thomas Aquinas.
There was no longer opposition to her entering religious life and she became a Carmelite in 1934 in the convent at Cologne, where she took the name of Sister Teresa Benedicta of the Cross. She made her final profession in 1938 and had the words of John of the Cross printed on her devotional picture: "Henceforth my only vocation is to love."
On 9 November 1938 the Nazis began open violence against the Jews, burning synagogues and terrorising their people. Edith, now Sister Teresa Benedicta, was smuggled into the Netherlands to the Carmelite convent at Echt. She wrote her will on 9 June 1939.
"Even now I accept the death that God has prepared for me in complete submission and with joy as being his most holy will for me. I ask the Lord to accept my life and my death... so that the Lord will be accepted by his people and that his Kingdom may come in glory, for the salvation of Germany and the peace of the world."
In Echt Edith hastily completed her study of "The Church's teacher of Mysticism and Father of the Carmelites." on the 400th anniversary of birth of John of the Cross.
Her own cross came in 1942 when she was arrested with her sister Rosa, who had also converted to Catholicism. They were in the chapel when the Gestapo arrived. She said to her sister: "Come, we are going for our people."
Their arrest with other Jewish Christians was an act of retaliation against the Dutch bishops who had protested against the pogroms and deportations of the Jews. They passed through transit camps where Edith was offered a chance to escape by a Dutch official who admired her courage. She refused and they eventually arrived at Auschwitz where, probably, on 9 August 1942 they were gassed.
Edith Stein, Sister Teresia Benedicta of the Cross, was beautified in Cologne on 1 May 1987. "The church honoured a daughter of Israel," said Pope John Paul II, "who, as a Catholic during Nazi persecution, remained faithful to the crucified Lord Jesus Christ and as a Jew, to her people in loving faithfulness." She was canonized on 11 October 1998.
Edith Stein never forgot her Jewish heritage and in her person restored the link between Judaism and Christianity which had tragically been lost in the early years of the church. She had a special devotion to the Cross which she experienced in her suffering and death at Auschwitz. She is one of the patrons of Europe.
St Teresa Benedicta of the Cross, pray for us.