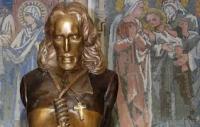 Feast day: 1 July
It is now generally agreed that St Oliver Plunkett (1625-1681) was born on 1 November 1625 in Loughcrew, Co Meath. His parents came from a Norman Irish family and were well-to-do. He was a grandson of James Plunket, eighth Baron Killeen, and was also related to a number of landed families. Until he was sixteen he was educated by his cousin, Patrick Plunkett, Abbot of St Mary's Dublin. In 1647 he went to Rome to study for the priesthood, in defiance of the law which forbade young men to go abroad for that purpose. He had a hazardous journey, as his ship narrowly escaped two English privateer ships. The voyagers prayed and promised a pilgrimage to Assisi; a storm blew up and saved them. Oliver was admitted to the Irish College in Rome. He was always short of money and his cousin paid his fees and accommodation. He did well and was ordained a priest in 1654 in Rome. He then undertook further studies in law and acted as a chaplain with the Oratorian fathers. In this role, he ministered to the poor and the sick. He was then appointed by the Irish bishops to act as their representative in Rome.
In 1649, after the death of Charles I, during the Commonwealth under Oliver Cromwell, the practice of the Catholic faith in Ireland was banned and Catholic priests executed. As a result it was impossible for Oliver to return to Ireland for many years. He asked to remain in Rome and in 1657 became a professor of theology. During the period of the Commonwealth he successfully pleaded the cause of the Catholic Church in Ireland and also served as a professor of theology at the college of Propoganda Fide. In 1669 he was appointed Archbishop of Armagh and was consecrated by the Bishop of Ghent. He arrived in London in l669 declaring:
"I shall not delay there (England) long but shall go to my diocese where until my last breath I shall live in the service of souls, even if it should cost me my life."
However because of the harsh winter, he had to stay longer than he had intended. It was so cold that he recalled that the wine in his chalice froze. He stayed incognito in the Royal Palace under the protection of Father Philip Howard, chaplain to the Portuguese Queen, Catherine of Braganza, to whom he was presented. He also met a priest who had been an army chaplain. He advised the archbishop to disguise himself as an army officer, since they were commonly seen travelling round the country. He thus adopted the persona of "Captain Browne", complete with wig, sword and a pair of pistols. He returned to Ireland in 1670, to a more tolerant regime with the resoration of Charles II. The penal laws had been relaxed with the Declaration of Breda in 1660.
He tackled drunkenness among the clergy saying:
"Let us remove this defect from an Irish priest and he will be a saint."
He established a Jesuit College in Drogheda in 1670 and the following year one hundred and fifty students attended, forty of whom were Protestants. This would have been the first integrated school in Ireland. He is said to have confirmed 48,000 Catholics over a four-year period. The government in Dublin under the Duke of Ormonde was tolerant to the Catholic hierarchy till the mid seventies.
He faced huge challenges. He was the only bishop in the northern province for some time and some dioceses had not seen a bishop for a very long time. He travelled extensively making parish visitations. He held meetings with bishops and synods of clergy. He was a skilled diplomat and intervened in the many disputes between the Anglo Irish and Gaelic Irish, between the diocesan and religious clergy and between the religious themselves. Though some had been averse to his appointment a letter was written to Rome by six vicar generals with the following commendation:
"For sending such an illustrious primiate to Ireland, he is so untiring in good works and so exemplary in his life and conduct that he has won for himself and the clergy, the love and reverence even of the enemies of the faith."
He lived a frugal life, giving up alcohol as an example to the clergy and wearing simple clothes. Later, when life for Catholics became more difficult, he often suffered great hardship. He was always generous, however, and once pawned silver candlesticks and a silver cup to feed the poor.
Oliver was a prolific correspondent and most of his letters are preserved either in the archives in Rome or in Downside Abbey, England. His letters from Newgate prison display the depth of his spirituality and faith. His writing shows him to be a warm, generous individual, ready to forgive, obedient to authority and firm in his principles. He also seems to have been an excellent administrator.
In 1673 the Test Act was passed, which required people to take an oath of supremacy and allegiance, to make a declaration against transubstantiation and to take communion in the established Church of England in order to qualify for public office. It imposed severe penalities against recusants. The school at Drogheda was knocked down, bishops were ordered to leave the country and rewards offered for the capture of any prelate who did not comply. Oliver refused to leave and travelled round the country in secret; however he was left for a few years in comparative peace.
In 1678 Titus Oates made allegations that became known as "The Popish Plot." This man had at one time been an Anglican, then professed to being a Catholic and had briefly joined the Society of Jesus. Against a background of anti-Catholicism among much of the population he concoted a plot, the essence of which was that King Charles was to be assassinated and replaced with his Catholic brother, James Duke of York. The Jesuits particularly were implicated and 57 of them were executed or died in prison as a result. King Charles knew very well that the accusations were false but he was faced with a parliament that was baying for blood and a need to protect his Catholic wife, brother and sister-in-law.
Oliver was arrested in Dublin where he had been visiting his dying cousin Patrick Plunkett. He was imprisoned in Dublin Castle where he gave absolution to the dying Archbishop of Dublin, who had also been taken prisoner. He was tried at Dundalk for planning a French invasion and raising taxes to support it. The trial collapsed because the witnesses, wanted men themselves, failed to appear. The authorities knew that they would not get a conviction in Ireland and transferred the archbishop to Newgate. where he was brought to trial. The witnesses for his defence did not make the deadline, he was not allowed defence counsel and his claim that the court did not have jurisdiction over him was ignored. The witnesses for the prosecution were all Catholics, bought and brought over from Ireland. Four were suspended priests and four lay people, probably with criminal records. The trial was a travesty of justice. The future Bishop of Salisbury, Gilbert Burnet, an eye-witness to the trial, knew that the archbishop was innocent and said of him that he was a wise and sober man who only wished to live peacefully and tend to his congregation. Lord Campbell, writing in the nineteenth centrury said of Pemberton, the Chief Justice, that the trial was a disgrace to himself and his country. Pemberton found Oliver Plunkett guilty of high treason "for promoting the Roman faith" and sentenced him to be hanged, drawn and quartered at Tyburn. The archbishop replied:
"Deo gratias."
 
During his last fortnight in Newgate gaol he was allowed a certain amount of freedom and was able to say mass. He also received many visitors who came to comfort him and went away consoled themselves. A Benedictine monk was imprisoned with him. Oliver wrote letters to him and a strong connection was formed with the Benedictine Order, which now has these letters. On the day of his execution, his gaoler was asked how the prisoner was. He replied that he had slept soundly and that he was as unconcerned as if he was going to a wedding. On 1 July 1681, he was dragged on a sledge to Tyburn, where he made a speech forgiving his accusers and proclaiming his innocence. Many people had begged for his life to be spared, including the French King Louis XIV. However King Charles II, fearful of his own position and that of his family, was afraid to intervene. When Lord Essex, who had been instrumental in arresting the archbishop but had not intended him to die, pleaded for his life, the King turned on him in fury and said:
"His blood be on your head. You could have saved him and would not; I would save him and dare not."
Four years later, that king would be received into the Catholic Church on his deathbed, by a priest smuggled up the back stairs.
Meanwhile the archbishop was hanged, drawn and quartered. His head was retrieved from the fire and is now preserved in St Peter's, Drogheda. The rest of his remains eventually found a resting place in Downside Abbey. He was the last of the Catholic martyrs to give his life at Tyburn. The trial and execution were so outrageous that those who had brought it about were discredited. Titus Oates suffered severe punishment under James II, was pardoned in the reign of William and Mary but his reputation was damaged and he died in obscurity.
Oliver Plunkett was canonised by Pope John Paul II in 1975.
St Oliver Plunkettt, martyred Archbishop of Armagh, pray for us.