Saint of the Month: St Matilda
Posted: 03/03/2017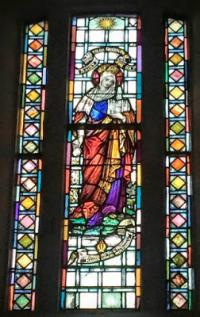 Feast day: 14 March
St Matilda was born around 895 AD in Enger, near Erfurt in the Westphalian part of Saxony. Most of the information about her life comes from brief mentions in Res gestae Saxonicae by the monastic historian Widukind of Corvey (c925-c973) and from two hagiographies, Vita Antiquior (written about 974) and Vita Posterior (c. 1003). She was the daughter of the local count Dietrich and his wife Reinheld. As a young girl she was sent to Erfurt Abbey where her grandmother Matilda was abbess. The young Matilda was very beautiful and would be provided with a generous dowry. She was thus sought in marriage by the Saxon Duke Otto who married her to his son Henry, known as "Henry the Fowler". He had been previously married but the marriage was annulled. Henry succeeded his father in 912 and later was made King of East Francia (Germany) in 919. Matilda and Henry had three sons and two daughters. The daughters Hedwig and Gerberga were married into the French royal family, the former being the mother of the founder of the Capet dynasty. Otto eventually became the first Holy Roman Emperor, Henry became Duke of Bavaria and Bruno Archbishop of Cologne and Duke of Lorraine. He is venerated as St Bruno.
In 929 Matilda received some estates including Quedlinberg, where she and her son Otto I (who succeeded his father in 936) built an abbey. The abbey was a convent of canonesses and her granddaughter Matilda became abbess there in 966. When Henry died Matilda remained at court as Queen Mother. She would have preferred her younger son Henry to become king but Otto, who had been his father's choice, was elected king. The two boys quarrelled with each other but eventually Henry was made Duke of Bavaria. Later her two sons joined forces accusing their mother of impoverishing the crown by her lavish almsgiving. She was briefly exiled but returned after the intervention of Otto's first wife Edith, a British princess.
When her husband died in 936 she gave a priest all her jewels to say mass for his soul and vowed to withdraw from the world. She founded many religious institutions including the canonry at Quedlinburg and a convent there and at Enger and Nordhausen. Medieval chroniclers praised Matilda for her devotion to prayer. She would often leave the side of her husband at night to pray. She died at the convent of Ss Servatius and Dionysius at Quedlinburg and was buried beside her husband Henry. St Matilda was honoured as a saint almost immediately after her death.
The stained glass window shown depicts St Matilda, and is found in the church at Coole, Co Westmeath, commemorating Matilda Neis (nee Dease) and her family.
St Matilda, pray for us.