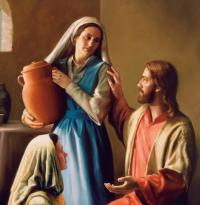 Feast day: 29 July
St Martha appears in the gospels of Luke and John. It would appear from Luke's account that she was the head of her household, which would seem unusual since she had a brother Lazarus.
"Now as they went on their way, he entered a certain village, where a woman named Martha welcomed him into her home." (Luke 10:38)
Martha obviously wanted to provide Jesus with the best meal possible. There was nothing wrong with that. However she had become fussed, bothered and angry with Mary for not helping. She tried to involve Jesus in her dispute with her sister. Jesus replied:
"Martha, Martha, you are worried and distracted by many things, there is need of only one thing. Mary has chosen the better part which will not be taken from her." (Luke 10:41-42)
It might seem that Jesus was siding with Mary and devalueing Martha's efforts.
We are told that "Jesus loved Martha and her sister Mary." (John 11:5 ) He seems to have had a very close relationship with the family and had become part of it. It was likely therefore that Jesus felt very sorry that Martha had got so upset and wanted to help her to see that staying quietly with him, as Mary was doing, would be much more lifegiving. By sitting at his feet Mary was actually taking up the position of a disciple. The interesting thing is that in John's account it is Martha, not Mary, who takes up the position of a disciple. Her brother Lazarus, Jesus' friend, had died. Martha went forward to greet Jesus. She was full of faith saying that she knew that whatever Jesus asked God would grant him. There follows one of the most beautiful dialogues in all the gospels.
Martha said to Jesus, "Lord, if you had been here my brother would not have died. But even now I know God will give you whatever you ask of him."
Jesus said to her, "Your brother will rise again."
Martha said to him, "I know he will rise again in the resurrection on the last day."
Jesus said to her, "I am the resurrection and the life. Those who believe in me. even though they die. will live, and everyone who lives and believes in me will never die. Do you believe this?"
Martha said, "Yes Lord. I believe that you are the Messiah, the Son of God, the one coming into the world." (John 11:21-28)
It would seem that Jesus brought out the best of Martha's leadership qualities so that she was able to make the same profession of faith as Peter and become a mature disciple as he had invited her to be. The two sisters Martha and Mary are often seen as combining the active and spiritual ministries essential for the service of the Lord.
St Martha, close friend of our saviour, pray for us.