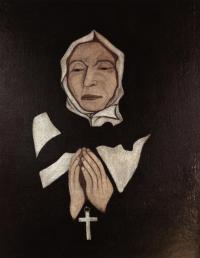 Feast day: 12 January
St Marguerite Bourgeoys was born in Troyes, in the province of Champagne, France, on 17 April 1620. Her parents were Abraham Bourgeoys and Guillemette Garnier. She was the seventh of thirteen children. They were a middle-class, socially-connected family. Her father was a candle maker and coiner at the royal mint in the town. He died when she was very young and her mother died when she was only nineteen.
In 1640, during a procession of Our Lady of the Rosary, after fixing her eyes on the statue, Marguerite decided to dedicate herself to the service of God. She registered as a member of the extern Congregation of Troyes, an association of young girls devoted to the charitable work of teaching children in the poor districts of the town. She learnt about the foudation of Ville Marie (Montreal) in Canada and began to sense a vocation to missionary life. In 1652 Paul de Chomedy, Sieur de Maisoneuve, the Governor of the French settlement at Montreal, visited his sister, an Augustinian canoness in Troyes who directed the sodality to which Marguerite belonged. The governor invited Marguerite to come to Canada and start a school in Ville Marie (Montreal) to educate French and Indian children. Our Lady confirmed the call: "Go, I will not forsake you," she told Marguerite.
She left France in 1653 and arrived in the Port of Quebec City in September of that year. Ursuline nuns offered her hospitality there while transportation to Ville Marie was arranged, but she chose to stay with poor settlers there instead. She arrived in Ville Marie in November. In the first years she struggled, as there were no children to educate due to high infant mortality, but in 1657 she persuaded a work party to form in order to build Ville Marie's first permanent church, the Chapel of Our Lady of Good Counsel. She also arranged for the restoration of the cross on Mount Royal after it had been destroyed by hostile Indians. In 1658 she was given a vacant stone stable by Maisoneuve to provide a schoolhouse for her students. This was the beginning of public schooling in Montreal. She went back to France to bring back more women as teachers for the colony. This allowed her to house and care for the "filles du roi" or "king's daughters" as they were called - these were orphan girls who were sent to the colony as wives for the settlers. Marguerite and her four companions interviewed those in search of wives.
The small group developed their religious way of life with common prayer and meals. However they separated, to go teaching as individuals in the various towns. They sought official recognition from both the Crown and the religious establishment in New France. In 1669 Marguerite had an audience with Francois de Laval, the Apostolic Vicar of New France. He issued an ordinance giving permission to the congregation of Notre Dame to teach on the entire island of Montreal, as well as anywhere else in the colony that needed them. The bishop however attempted later to draft a rule of life, which would have imposed enclosure on them. Marguerite obtained an audience with King Louis XIV in 1671 and received letters patent from him which secured the status of "secular sisters." The King went so far as to say:
"Not only has (Marguerite Bourgeoys) performed the office of schoolmistress, by giving free instruction to young girls in all occupations…. far from being a liability to the country, she has built permanent buildings…. "
Marguerite's work after 1672 has been referred to as the "Golden Age" of the community. Her main efforts were with the more needy members of society but she also established a boarding school, so that the more affluent girls would not have to travel to Quebec for their education. She also founded school devoted to needlework and other practical occupations for women in Pointe-Saint-Charles. She began smaller schools and also one in the Iroquois village of la Montagne (Montreal).
She made a third journey back to France to protect the uncloistered character of her congregation, Though she needed new members, Bishop Laval, also visiting France, forbade her to recruit; however she managed to find enough Canadian-born women to continue her work. The new bishop encouraged her, impressed with the vocational school she had founded at Ville-Marie and co-operated with her in establishing a similar school in Quebec. A number of sisters were brought to the Ile d'Orleans and a school for girls from poor families was opened in Quebec.
In 1683 Marguerite decided to step down but remained as a figurehead until 1693, making sure that the spirit of the Congregation was maintained with its secular character. Another attempt was made, this time by Bishop Saint Vallier, to enclose the congregation, by merging it with the Ursulines. He did not succeed, and in 1698 it was canonically constituted as a community. The work of the congregation continued after her death. In 1908 the Congregtion of Notre Dame founded Notre Dame Ladies College, now known as Marianopolis College, In 1981, a community was established in Troyes, Marguerite Bourgeoys' home city, and a second community was formed in 1989 in Estissac, where the sisters started the Marguerite Bourgeoys Cultutual Centre. There are now 830 members of the congregation, and its mother house is in Montreal.
Marguerite spent the last two years of her life in prayer and also writing her autobiography, of which some remnants have survived, She died in Montreal on 12 January 1700. Her portrait was painted by Pierre Le Ber immediately after her death.
She was venerated as a saint long before her canonization, which took place on 2 April 1982. She was the first Canadian woman saint. On 30 May 1975 Canada Post issued the stamp Marguerite Bourgeoys, 1620-1700. It was designed by Jacques Roy, based on a painting by Elmina Lachance.
Several schools and a college are named after her, and there is a Marguerite Bourgeoys Park in Montreal, as well as a museum; and a sculptural representation stands in the Place Marguerite Bourgeoys, across from the Quebec Court of Appeal and next to the Palais de justice in Old Montreal.
St Marguerite Bourgeoys, pray for us.