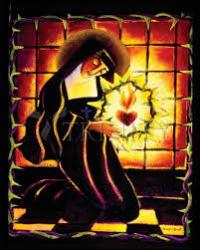 Feast day: 16 October
Margaret Mary was born in 1647 in L'Hautecour, Burgundy. She was the only daughter of Claude and Philiberte Lamyn Alacoque, who also had several sons. From an early age she showed intense love for the Blessed Sacrament and preferred silence and prayer to childhood play. After her First Communion, she practised severe mortifications till she was confined to bed with rheumatic fever for four years. She then made a vow to Our Lady to dedicate herself to religious life and she was restored to perfect health. She added Mary to her baptismal name of Margaret, in recognition of this favour. According to her later account of her life, she had visions of Jesus, which she thought were a normal part of life.
She lost her father at a young age, and with a relative withholding his property the family was plunged into poverty. Margaret Mary continued to lead a life of prayer and austerity, with frequent visits to the local church to pray before the Blessed Sacrament. When she was seventeen, the family recovered their fortune and her mother encouraged her to socialize, with a view to finding a suitable husband. In deference to her mother she began to attend balls and other social events with her brothers.
One evening she came home from a ball for Carnival, dressed in her finery, and had a vision of Our Lord, scourged and bloody, reproachful that she had forgotten her childhood vow to his mother. He also expressed his love for her. As a result of the vision she entered the Visitation Convent at Paray le Monial in 1671, intending to become a nun. She did not make her final vows till the following year. A fellow novice described Margaret Mary as humble, simple and frank, but kind and patient. She was assigned to help the infirmarian and was not very skilful at her tasks. She found it difficult to meditate in the way that was expected of her.
In the monastery Margaret Mary received several private revelations about the Sacred Heart; the first on 27 December 1673 and the last eighteen months later. This was the origin of the devotion to the Sacred Heart, which involved reception of Holy Communion on the First Friday of the month, Eucharistic adoration during a Holy Hour on Thursdays and the celebration of a feast of the Sacred Heart. She was instructed to meditate on Jesus' agony in Gethsemene for an hour on Thursdays. She revealed that Jesus had permitted her to rest her head on his heart and disclosed to her the wonders of his love. He wanted this to be made known to mankind and she was his chosen means of doing this.
"Behold the Heart that has so loved men... Instead of gratitude, I receive from the greater part [of humankind] only ingratitude."
Margaret Mary struggled to perform this task. She did manage to convince her superior of the authenticity of her visions but many members of her congregation did not believe her and she suffered much at their hands. Some theologians were likewise sceptical. She eventually received the support of a Jesuit, Claude de la Colombiere, who had been appointed chaplain to the community,. He declared that the visions were genuine. In 1683 the community's opposition ended when a new superior was elected and Margaret Mary was named as her assistant. She became novice mistress and saw the monastery observe the Feast of the Sacred Heart beginning in 1686. However it had already been celebrated in Rennes, owing to the efforts of St Jean Eudes.
Margaret Mary died in 1690. The Feast of the Sacred Heart was officially recognized seventy five years after her death, when it was approved by Pope Clement XIII in 1765. Pius IX made the feast obligatory for the universal church. Later popes further raised its status.
Margaret Mary was said to have been a quiet woman with an intense love of Jesus. This led her to undergo mortifications which undermined her health. They would be considered shocking today. With her superior's consent she cut the name of Jesus on her breast and signed a testament with her blood; when the wounds began to heal she wanted to cut it again but did not succeed so burnt herself.
The devotion to the Sacred Heart, which she brought to fruition, had a long history - going back to medieval times - in the spirituality of saints like Bernard, Lutgarde and Gertrude. After the apparitions of St Margaret Mary, it was promoted especially by the Jesuits. It came at a time when Jansenism was spreading, with its emphasis on sin and depravity and its claim that only a part of humanity was destined for salvation. The love of Jesus, expressed through the image of the Sacred Heart, counteracted this rigorism.
Claude Colombiere was later appointed chaplain to Mary of Modena, wife of the then Duke of York, afterwards James II of England. He suffered greatly during the witch hunt of the so called Popish plot and though he was eventually released from prison, he never recovered his health. He was canonised in 1992 by Pope John Paul II. Margaret Mary was canonised in 1920 by Pope Benedict XV. Her incorrupt body lies above the side altar in the Chapel of the Apparitions at the Visitation monastery in Paray le Monial.
St Margaret Mary Alacoque, pray for us.