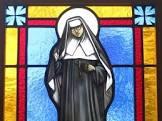 Feast day: 3 March
Katharine Drexel was born in Philadelphia, the second child of investment banker Francis Anthony Drexel and Hannah Langstroth. Hannah died five weeks after her daughter's birth. For some time the two girls were cared for by an aunt and uncle but when Francis remarried they returned home. A third daughter was born in 1863. The girls were educated at home by private tutors. Francis was keen that his children learn geography first hand, so they were taken on tours of the United States and Europe.
The Drexels were charitable and distributed food and clothes from their family home. If women were too proud to come for assistance, the family tactfully sought them out. Francis' new wife Emma said: "Kindness may be unkind if it leaves a sting behind."
As a young and wealthy woman Katharine was expected to enter high society, and she made her social debut in 1878. However her stepmother, Emma became ill with cancer and the young woman realised that the Drexel money could not protect them from misfortune. She had always been interested in the plight of the American Indians and was shocked when she read the ground-breaking work of Helen Hunt Jackson, A Century of Dishonour. She began her life's work of supporting missions and missionaries. When her father died in 1885, Katharine and her sisters contributed money to help the St Francis Mission on the South Dakota Rosebud reservation.
Her spiritual director was a family friend, Father James O'Connor, who was later appointed vicar apostolic of Nebraska. When Katharine wrote to him about joining a contemplative order, the Bishop suggested: "Wait a while longer... Wait and pray."
Katharine and her sisters shared a fortune of about fourteen million dollars. The will was crafted so that they were protected from fortune hunters and controlled their own money.
In 1886 the sisters sailed for Europe. In January 1887 they were received in audience by Pope Leo XIII. They asked him for missionaries to staff some native Amertican missions they had been financing. To her surprise, the Pope suggested that Katharine become a missionary herself. She had received several marriage proposals but decided, after consultation with her spiritual director, to give herself to God with her inheritance, through service to American Indians and Afro-Americans. Her uncle, Anthony Drexel, tried to dissuade her, but she entered the Sisters of Mercy in Pittsburgh in 1889 to begin her six-month postulancy. Her decision shocked Pittsburgh social society. "Miss Drexel enters a Catholic Convent - gives up seven million" wrote the Philadelphia Public Ledger.
On 12 February 1891 Katharine professed her first vows as a religious sister, dedicating herself to work among the Native American and Afro-Americans in the western and south-western United States. She took the name Mother Katharine. Joined by thirteen other women, she established a religious congregation, the Sisters of the Blessed Sacrament. The Drexels' summer home, St Michel, was used until a convent was built and named St Elizabeth. A few months later, Archbishop Ryan of Philadelphia blessed the cornerstone of the new mother house under construction in Cornwells Heights. Katharine's work was not popular with some, and a stick of dynamite was placed near the site. It was the first of many incidents expressing opposition to her work.
After three and a half years of training, she and her first band of nuns opened a boarding school, St Catherine's Indian School in Santa Fe, New Mexico. In 1897 Katharine asked a group of Franciscans to staff a mission for the Navajos of Arizona and New Mexico on a 160-acre tract of land she had bought previously. It was a new experience for them as they had mostly worked in German-American parishes. She later helped to finance the friars' work among the Pueblo native Americans in New Mexico. In 1910 Katharine funded the printing of five hundred copies of a Navajo-English Catechism of Christian doctrine, written by Franciscans fathers. The friars started Our Lady of Guadalupe Province 1n 1985. They continue to work with Katharine's sisters of the Blessed Sacrament on the Navajo reservation.
Katharine Drexel established 145 missions, 50 schools for African-Americans and twelve schools for native Americans. Xavier University, the only historically black Catholic college in the United States, also was the work of Katharine and the sisters. Katharine was highly commended by Pope Pius XII on her Golden Jubilee in 1941. She had given twelve million of her fortune for her causes. At her death, according to her father's will, the money went to the children of her sister.
Katharine Drexel died at the age of 97 in 1955, at the order's motherhouse in Cornwells Heights, Pennsylvania. She was buried there till 2018. When the convent and grounds were put up for sale in 2016 Katharine's remains were moved to the Cathedral of Ss Peter & Paul in Philadelphia. She was canonised in 2000. She is one of the few native born citizens of the United States to receive this honour.
St Katharine Drexel, pray for us.