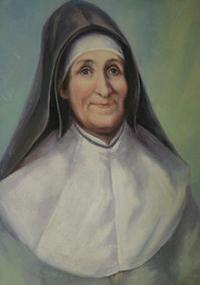 Feast day: 8 April
St Julie Billiart was born on 12 July 1751 in Cuvilly, a village in Picardy in the north of France, to farmer and shop-owner Jean François Billiart and Marie Louise Antoinette Debraine, who are described as "strong Christian parents". Julie was remarkable in that by the age of seven she knew the catechism off by heart and taught it to her friends. She attended the village school, run by her uncle. Her education was elementary.
At the age of nine she took a vow of chastity and by the time she was fourteen she knew she wanted to enter religious life. She was skilled in embroidery and lace making, which she sold in the family store and donated to the nearby Carmelite convent. When she was sixteen the store was raided and the family never recovered financially. She took a job as a farm labourer and taught her fellow workers hymns, shared bible stories and talked about the faith. Such piety earned her the title of "the saint of Cuvilly."
In 1774 Julie was present when her father was shot as they worked in the store. The trauma led to a mysterious illness. She became paralysed and by 1784, through poor medical treatment, she became confined to bed as a cripple for 22 years. She spent large amounts of time in prayer and received the eucharist daily. She also made lace and linens for the altar. She taught poor peasants from the village and noble women from Picardy, and also prepared children for First Holy Communion.
In 1789 the French Revolution broke out. Julie acted defiantly, sheltering "non-juried priests" (those who refused to take the oath of allegiance to the government). She refused to collaborate with the priest loyal to the revolutionary government and persuaded the entire village to boycott him. Julie's life was now in danger, and with the help of one of her noblewomen students she escaped in a wagon, hiding under a bale of straw. A farmhand helped Julie, her niece and a caregiver escape to Compiègne. She was so concerned about those who had helped her to escape and the Carmelite sisters who were guillotined in 1794, that she suffered another paralysis and was unable to speak. While in Compiègne she received a vision where she heard the words: "These are the daughters I will give you in an institute which will be marked by my cross." She believed that this was a guide for her future where she would found a religious congregation.
In 1894 she moved into a small apartment in Amiens where she met the French noblewoman and nun Françoise Blin de Bourdon, whom Julie recognised as one of the nuns in her vision at Compiègne. At first Françoise was repelled by Julie's disabilities and her garbled speech; however the latter "immediately admired and enjoyed Françoise," for she found her genuine and spiritual. Françoise gradually warmed to the invalid "for her wonderful gifts of soul" and "her deep faith and loving spirit." They became close, especially when the two corresponded between 1795 and 1797 when Françoise was caring for her family.
In 1797, during the reign of terror, Françoise, Julie and the Abbé Thomas - who was also hiding and ministering in Amiens - escaped to Bettencourt in Northern France, remaining until it was safe to return to Amiens in 1803. They met Father Varin, a local priest in Bettencourt. Julie and Françoise continued to teach girls but Father Varin also entrusted some orphans to them. In 1804 the two women plus one other took vows of chastity and dedicated themselves to the care of young girls. Thus the Sisters of Notre Dame were founded in Amiens, which became the Sisters of Notre Dame de Namur. With Father Varin's assistance Julie began to speak again.
The congregation grew with the addition of noble ladies, associates of Françoise, who were taught "how to lead the interior life" by Julie, while they worked together for God's poor. Françoise rented a house for them where they lived, prayed and worked as a small community. Father Varin wrote guidelines for them. Their focus was on educating young girls and "making known God's goodness." Julie became known as "Mother Julie." Some young people volunteered to help; the first class comprised eight orphans.
On 1 June 1894, on the Feast of the Sacred Heart, after a novena which her confessor had instructed her to pray, Julie was cured of her paralysis. After her cure she was able to travel on a successful mission. The first vows were taken in October 1895 by Julie, Françoise and two other sisters. As its founder and first superior, Julie established the congregation's devotions from its very beginning. She made no distinction between choir and lay sisters and made sure that each nun was given the work suited to her aptitudes. She laid emphasis on the spiritual formation and education of her community. She was ably assisted by Françoise, who became Sister St Joseph.
Julie had a vision in which she saw the Sisters of Notre Dame as a "Light of Revelation" throughout the world. Since the authorities in Amiens opposed their working in other places, Julie moved the congregation to Namur. She regarded universal education as a human right and teaching as "the greatest work on earth". As of 2020 the Sisters of Notre Dame de Namur worked in sixteen countries, on five continents.
By the time the congregation was approved by an imperial decree in 1806, it had thirty members. Within a few years it had houses in various towns in France and Belgium. The most important ones were in Ghent and Namur, where Françoise was the first superior. The Namur convent became the mother house in 1809. Julie founded fifteen convents between 1804 and 1816, made "long and toilsome journeys" and carried on a voluminous correspondence with her spiritual daughters, much of which is preserved at Namur. She became ill in January 1816 and after bearing pain for three months, she died with the Magnificat on her lips.
Julie remained unknown for a long time but after several miracles she was finally canonised in 1969 by Pope Paul VI. For someone who herself had only an elementary education, she did wonderful work in educating others. She braved the terrors of the French Revolution and founded a congregation whose the members were all equal and promoted a very modern vision of the right to education for all.
St Julie Billiart, pray for us.