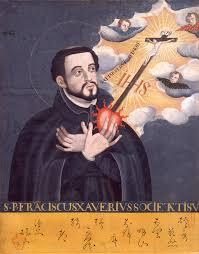 Feast day: 3 December
Francis Xavier was born in the royal castle of Xavier, in the Kingdom of Navarre, in 1506. His father, Juan de Jasso y Atondo, was the seneschal of Xavier castle. He came from a prosperous farming family and had acquired a doctorate in law at the university of Bologna. He later became a privy councillor and finance minister to King John III of Navarre. Francis' mother was sole heiress to two noble Navarrese families. In 1512 Ferdinand of Aragon invaded Navarre. In 1516 Francis' brothers took part in a Navarrese-French attempt to drive the Spanish out. As a result the family lands were confiscated and much of the castle destroyed. Francis' father had died in 1515.
In 1525 Francis went to study at the college of Sainte Barbre at the University of Paris. He would spend eleven years there and took part in athletics. In 1529 his friend Pierre Favre and he shared lodgings. There they were joined by a new student, who was thirty eight, a great deal older than they were. His name was Ignatius of Loyola. He convinced Pierre to become a priest but Francis had worldly ambitions and he thought that Ignatius was a bit of a joke. Pierre went to visit his family and Ignatius gradually wore Francis down. In 1530 he received the degree of Master of Arts and taught Aristotelian philosophy at Beauvais College in the University of Paris.
In 1534, seven students met in a crypt beneath the Church of St Denis (now St Pierre de Montmartre), on the hill of Montmartre. Francis was among their number. They took vows of poverty, chastity and obedience and a fourth vow of obedience to the Pope. They also vowed to go to the Holy Land to convert the Muslim inhabitants. This proved impossible as there was no ship to take them there; as result they went to Rome and put themselves at the service of the Pope. Francis had began his study of theology in 1534 and was ordained a priest in 1537. Meanwhile, after long discussions, Ignatius drew up a formula for a new religious order, the Society of Jesus. This was approved by Pope Paul III in 1540.
King John III appealed for missionaries to go to his newly-acquired possessions in India and looked to the new order for recruits. Ignatius appointed two men but one became ill and Francis Xavier was asked to go in his place. He agreed immediately and went to Lisbon with a breviary, a catechism and the De Instutione Bene Vivendi written by a Croatian humanist. He reached Lisbon in 1540 and - four days after his arrival - he and his companion Rodrigues were summoned to a private audience with King John and his queen. They spent a year in Lisbon waiting for a ship, living in a hospice, caring for the sick there, and visiting the poor and prisoners. They had impressed the King so much that Rodrigues stayed on in Portugal and Francis went alone to India. On his departure he was informed he had been appointed apostolic nuncio over all the Portuguese clergy. He left in April 1541. The voyage took thirteen months. He spent from August till March 1542 in Portuguese Mozambique and arrived in Goa - then capital of Portuguese India - on 5 May 1542. He found the behaviour of the colonists left much to be desired. They were cruel to the slaves and often led scandalous lives. Francis set about reform and gave special attention to teaching the children. He spent the first five months preaching and ministering to the sick in hospital, including the lepers. He walked through the streets ringing a bell, summoning the children to catechism. He was invited to head St Paul's College, a pioneer seminary of secular priests, which became the first Jesuit headquarters in Asia.
Francis then went to Cape Comorin on the southern tip of Goa, accompanied by several native clerics. There he preached to the Paravas, poor pearl fishers who had converted to please the Portuguese (who had helped them against their enemies) but who were uninstructed in the faith. However, he had no success with the high class Brahmins. He spent three years teaching the people of Southern India and Ceylon (modern Sri Lanka) and converted many. He built forty churches including St Stephen's Church, Kombuthurai, which he mentioned in a letter dated 1544. During this time he was able to visit the tomb of St Thomas the Apostle in Mylapore, now part of Chennai (Madras), then in Portuguese India. In 1545 Francis went to Malacca (now part of the Malay peninsula) and preached there to the end of the year; in 1546 he sailed for the Maluku Islands (now Indonesia), where the Portuguese had some settlements. He stayed there for a year and a half, returning to Malacca in 1547. He is said to have lost his crucifix while travelling round the islands and found it the next day attached to a crab.
Francis met a Japanese man called Anjiro in Malacca. He had heard of Francis and travelled to meet him. This man had been charged with murder and had fled from Japan. He gave Francis a lot of information about his country. He became the first Japanese Christian and took the name Paulo de Santa Fe. He later helped as a mediator and interpreter. In 1548 he returned to Goa, where as superior of the mission there he dealt with some administrative matters and made various journeys. He left Goa in l649, taking presents for the Emperor of Japan and intending to present himself as the Apostolic Nuncio. He was encouraged by returning Portuguese merchants, who said that he would do great service for God in Japan, more so than in India, for the Japanese "are reasonable people." The Portuguese were already in Tanegashima, a Japanese island. He reached Japan in July 1649 together with Anjiro and three other Jesuits. He was not allowed to enter the port until 15 August, when he went ashore at Kagoshima, the principal port of the Satsuma province on the island of Kyushu. The daimyo (local magnate) received him in a friendly manner, as a representative of the Portuguese king but the following year he forbade the conversion of his people to Christianity on pain of death. There were Christians in Kangoshima but no one to teach them.
Francis stayed with the family of Anjiro, and from October until December he lived in Yamaguchi. Here the local daimyo gave him permission to preach. Contrary to some reports, Francis Xavier was a poor linguist and struggled to learn the language. He brought paintings of the Madonna and Child and these were used to teach the Japanese. He read aloud from a translation of the catechism. He journeyed to Kyoto in an attempt to meet the Emperor but failed.
In his travels so far, he had ministered to the poor and dressed simply. Now however, hearing that a prince would like to see him and would not welcome people shabbily dressed, he set off south in a fine cassock, surplice and stole, and accompanied by thirty gentlemen. They bore valuable articles including a portrait of Our Lady and a pair of velvet slippers, intended to impress the prince. He then presented himself to Oshindono, ruler of Nagate with a watch, a musical instrument and other attractive gifts.
The Japanese did not convert easily. Already many of them were Buddhist or Shinto. They found it hard to believe in the goodness of a God who created everything, some of which become evil. They also found the concept of Hell and the possibility of some of their ancestors being there, very hard. to accept. Initially Francis was welcomed by the Shingon monks, using Japanese words to convey his message, but when the monks found he was preaching a rival religion they became hostile.
Francis worked for more than two years in Japan and had some success, establishing congregations in Hirado, Yamaguchi and Bungo. He saw Jesuits settled there. He began his journey back to India but a tempest forced him to stop on an island near Guangzhou, Guangdong, China, where he met an old friend, Diego Pereira, a rich merchant. Pereira gave him a letter from some Portuguese prisoners, asking for a Portuguese ambassador to speak to the Chinese Emperor on their behalf. He then stopped at Malacca and was back in Goa in 1552.
In April of that year he sailed for China, intending to present himself as Apostolic Nuncio and Pereira as ambassador of the King of Portugal. Then he realised he had forgotten his testimonial letters as Apostolic Nuncio. When he arrived at Malacca he was confronted by the captain who controlled the harbour, who refused to recognise him as nuncio, asked Pereira to resign from his position as ambassador, named a new crew for the ship and demanded that the gifts intended for the Chinese Emperor be left in Malacca.
In 1552 the ship reached the Chinese island of Shangchuan, about fourteen kilometres from the southern coast of mainland China, near Taishan, Guangdong, two hundred kilometres south west of what would later become Hong Kong. He was accompanied only by Pereira, a Chinese man and a Malabar servant. He wrote a letter saying a man had agreed to take him to the mainland, in exchange for a large sum of money. Entry to China was forbidden so it had to be done under cover of darkness. He sent Pereira away and was alone with Antonio, the Chinese man. He became ill from a fever at Shangchuan on 21 November 1552 while he was waiting for a boat to take him to mainland China. On 3 December 1552 he died. His last words were: "In you, O Lord, I have hoped; never let me be confounded."
He was buried on the island and quicklime was scattered over the body so that it would decompose more rapidly. However, it was later found to be incorrupt. His remains were taken first to Malacca and then to Goa, to the church of Bom Gesu. There they were placed in a glass container, encased in a silver casket, which was made by Goan silversmiths and which depicted scenes from the life of the saint. It is lowered every ten years for public veneration, though this does not always happen. The site where he died in China was marked by several monuments which were destroyed over the years. A chapel was built in 1869, with a bell donated by the French Empress Eugenie. This again fell into disrepair but was restored in 2006 by the friends of the Society of Jesus in Hong Kong and the past students of Wah Yan College to mark the fifth centenary of the birth of Francis Xavier.
Francis was said to "have walked with a calm, joyful face" and "everywhere he went there was laughter in his mouth." He approached his work with great zeal and vitality. When Ignatius asked him to go to the Far East he was overjoyed. He was, like St Paul, an intrepid traveller, at a time when sea journeys were fraught with danger. Francis Xavier was canonized in 1622, along with his friend and founder of the Society of Jesus, Ignatius Loyola. He was named as patron of the missions.

St Francis Xavier, Apostle of the Indies, pray for us.