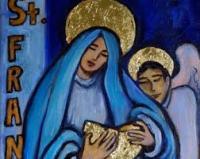 Feast day: 9 March
Frances was born in 1384 in Rome to a wealthy, noble couple, Paolo Bussa and Icabella del Roffredeschi. She was baptized in the church of St Agnes on the Piazza Navona. From a early age she wanted to be a nun, but when she was twelve her parents made her marry Lorenzo Ponziani, commander of the papal troops in Rome and a member of a very wealthy family. She went sobbing to her spiritual director who said to her:
Are you crying because you want to do God's will or you want God to do your will?
The marriage, however, was happy. Lorenzo admired his wife. He was frequently away from home at war. They had six children, three of whom died in infancy and two later of the plague. Frances, with her sister-in-law Vannozza, visited the sick and the poor and encouraged other wealthy women to follow her example. She fell gravely ill soon after her marriage and, turning away a man who dabbled in magic and who was sent by her husband, she announced that St Alexis had cured her. When her mother-in-law died, Frances took over the running of the house; during a period of flood and famine she turned part of the family estate into a hospital and distributed food and clothing to the poor. Her father-in-law became very angry and tried to obstruct her by taking the keys to the supply room. He returned them, however, when both the corn bin and wine barrel were miraculously replenished.
During the Western Schism, when two and then three men claimed to be Pope, Lorenzo served and fought for the Roman pope. Battista, son of Lorenzo and Frances, was taken hostage by the Neapolitan troops who were supporting the pope in Avignon, but Frances prayed to Our Lady and the horse on which the boy was mounted refused to move despite severe punishment. Battista was returned to his mother.
Lorenzo lost most of his property and possessions when he was forced into exile, and was badly wounded during one of the Neapolitan occupations of Rome. He never fully recovered and Frances nursed him for the rest of his life. Meanwhile, two of their children died of the plague that was raging at the time. The city of Rome was in ruins because of the conflict between the rival popes. Frances again opened her home as a hospital and went out into the countryside to collect wood for fires and herbs for medicine.
Frances with her husband's consent practised continence and was very devout. She had mystical experiences which included visions of her guardian angel and of hell and purgatory. She also foretold the end of the Western Schism. She was honoured for her humility, patience and obedience. She was a member of the Third Order of St Francis.
In 1435, on the Feast of the Assumption, she founded the Olivetan Oblates of Mary, a group of women who were under the authority of the Olivetan monks of Santa Maria Nova in Rome. Since they were not cloistered or under vows they could adapt themselves to serve the needs of their society. Fances also founded a monastery at Tor de' Specchi, near the Campidoglio, for those of the confraternity who wished for more of a community life. They were approved by Pope Eugenius IV and were known later simply as the Oblates of St Frances of Rome.
Frances remained in her own home and nursed her husband until he died in 1436. She then became superior of the monastery. She died in 1440 and was buried in Santa Maria Nova.
Frances was canonized in 1608 by Pope Paul V. A search was made for her remains which were finally located in 1638 and they were reburied in Santa Maria Nova on 9 March, which became her feast day. In 1869 her body was exhumed once more and was placed in a glass case. The church is now known as St Frances.
In 1925 she was named by Pope Pius XI the patron of ambulance drivers, because of a legend that an angel used to light her way when she travelled. She is also the patron saint of widows.
St Frances of Rome, pray for us.