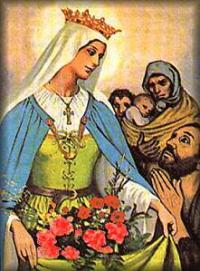 Feast day: 4 July
Elizabeth of Portugal was born in 1271 and was the daughter of Peer III of Aragon and his wife Constance of Sicily. She was always very pious. She said the full Divine Office and attended two choral masses daily; she fasted and did other penances. She was betrothed to King Denis of Portugal in 1281 when she was only ten and the marriage took place seven years later. Denis was a poet as well as being a statesman and was known as "Rei Lavrador" (Farmer King) because he planted a large pine forest near Leiria to prevent the soil degradation that threatened the region.
Elizabeth continued her religious practices and tended the poor and the sick. This caused ill-will among many around her. Her husband Denis was very unfaithful, fathering seven illegitimate children. Elizabeth agreed to care for them and educate them. She herself had a daughter, Constanza, born when she and Denis had been married for eight years. Alfonso, the crown prince, was born a year later.
She cared for lepers, attending to their wounds herself, washing and bandaging them and then giving them food. One leper fell at the door and the keeper, not knowing of the Queen's good work, hit him on the head. Elizabeth treated the wound with egg white and the wound healed. Her medical knowledge was later praised by doctors and in 1779 the Portugese Academy of Science chose her as their patron.
She took an interest in Portuguese politics and was influential in the bringing about the Treaty of Alcanices, signed by King Denis and Sancho IV of Castile, which fixed the borders between the two countries. In 1304 she and Denis arbitrated between Fernando of Castile and James II of Aragon, brother of Elizabeth.
She was responsible for building a convent in Coimbra to house the Poor Clare nuns, a house for herself near the convent, an orphanage, a hospice for the aged poor and a hospital. She made sketches herself and managed the day to day progress of the projects. Scholars refer to the style of architecture, with common features, dating back to her time as "Isabeline".
Elizabeth served as an intermediary between her husband and son Alfonso during the civil war (1322-23). The Infante was jealous of Denis' illegitimate son Alfonso Sanches. The Infante allied himself with the Kingdom of Castile in a attempt to dethrone his father, whom he accused of favouring his illegitimate son. Denis had wanted to kill Alfonso but it is said that Elizabeth, mounted on a mule, positioned herself between the two armies to prevent combat. Peace was eventually restored and the Infante swore loyalty to the king.
King Denis became ill in 1324. Elizabeth nursed him and he died in 1325. Elizabeth then went on a pilgrimage to Compostela and then retired to the house near the Poor Clare Convent, which she had founded at Coimbra. Although she had thought of becoming nun she remained a tertiary. She devoted the rest of her life to caring for the poor and sick. She provided lodging for pilgrims and education for children of impoverished nobles, paid dowries for poor girls, and was the benefactor of many hospitals. She also supported religious projects such as the Trinity Convent in Lisbon.
In 1336 she acted as peacemaker between her son Alfonso IV and King Alfonso XI of Castile, who had married his daughter and ill-treated her. She was already in poor health, and the exertion brought on a fever from which she died in 1336 in the castle of Estremoz. She was not buried with Denis but in the Convent of Santa Clara; her body was removed from there because of flooding in the seventeenth century, and now lies in the Monastery of Santa Clara a Nova in Coimbra, in a silver and crystal sarcophagus. She was canonized by Pope Urban VIII in 1625 and her feast day is 4 July.
St Elizabeth of Portugal, queen and peacemaker, pray for us.