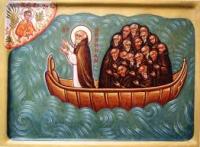 Like many early Irish saints there is little known about the life of St Brendan (484 - 577); however, he is a very popular saint particularly on account of his legendary voyages which have been immortalised by Tim Severin in the Brendan voyages and the music of Shaun Davey. The approximate dates of his birth, life and death are found in Irish annals and genealogies. The earliest mention of the Saint is in the Vita de Sancta Columbae of Adamnan, written between 679 and 704 AD. The first mention of him as a seafarer appears in the Martyrology of Tallaght, writen in the ninth century. The principal works are the Life of Brendan in Irish and Latin versions and the Navigatio Sancti Brendani Abbatis. The Vita dates from about the twelfth century, though there may have been earlier copies, and the Navigatio was probably written before the Vita. St Aengus the Culdee in his litany composed in the end of the eighth century invokes the sixty who accompanied St Brendan in his quest for the land of promise.
According to sources, Brendan was born in 484 in Tralee, Co. Kerry. He was of the tribe of the Altraige and his parents were Finnlug and Cara. He was baptised at Tubrid by St Erc and was christened Broen–finn, which means "fair drop". He was educated under St Ita for five years and then sent to St Jarlath's monastery school in Tuam to finish his education. Brendan is one of the Twelve Apostles of Ireland who were educated by St Finnian of Clonard.
When he was 26 he was ordained a priest by St Erc. His first voyage took him to the Aran islands where he founded a monastery. He also visted Hinba (Argyll), an island off Scotland where he is said to have met Saint Columba. He then travelled to Wales and to Brittany. Between 512 and 530 Brendan built monastic cells at Ardfert and Shannak at the foot of Mount Brandon.
Brendan is of course renowned for his voyage to the Isle of the Blessed described in the Navigatio. Many versions tell how with sixteen monks and three unbelievers to search for the garden of Eden. Part of the story narrates how he landed on a supposed island that turned out to be a sea monster. This motif appears in other legends such as Sinbad the Sailor. The Navigatio fits into a then-popular literary genre in Ireland called Immram, which flourished in the eighth and ninth centuries: they are tales which describe a hero's series of seafaring adventures. Some of these stories describe quests for Tir na nÓg, an island far to the west, beyond the edges of the world map. There seem to be similarities with the Voyage of Bran written much earlier. There is an echo of the ascetic tradition of the desert fathers who withdrew to caves. Instead the Irish monks travelled, sometimes alone, in boats. There is a Dutch version of the story which describes a monk from Galway called Brandaen who travelled round the world for nine years, as a punishment for throwing a book about the miracles of creation into the fire because he did not believe in them. He founded a monastery at Annaghdown where he spent the rest of his life; he also founded a convent for his sister Briga. He had established the diocese of Ardfert and he founded a monastery at present day Coney island in Co. Clare. His most famous foundation was Clonfert cathedral, with its monastery school, which became an important seat of learning.
Brendan's boat was built of wattle covered with hides tanned in oak bark and softened with butter and set up with a mast and a sail. Tim Severin proved that it would have been possible for Brendan to reach North America but there is no evidence to prove that he did so or that he reached Greenland or Iceland. Nor is it known where his island was, though there places which have been suggested as possible locations.
St Brendan died in 577 at Annaghdown.
St Brendan the Navigator, pray for us.