Saint of the Month: St Alphonsus Rodriguez
Posted: 28/09/2017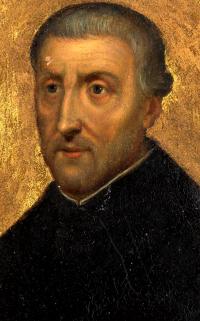 Feast Day: 31 October
St Alphonsus Rodriguez was born on 25 July 1532 in Segovia in Spain. He was the son of a wool merchant. When Peter Favre, one of the original founders of the Society of Jesus, visited the city, he stayed with the Rodriguez family and prepared Alphonsus for his first communion. When he was fourteen his father died and Alphonsus left the college of Alcala to help his mother run the family business. When he was 26 he married Maria Suarez. The couple had three children but when Alphonsus was thirty one Maria died. From then on Alphonsus led a holy life with prayer and mortification. Later his only surviving child and his mother died. The business was failing and so Alphonsus sold it. He now began to think of entering a religious order. He was drawn to the newly-founded Society of Jesus but he had little education. To remedy this he attended the University of Barcelona but was unable to complete the course, mainly due to health problems which were a result of his mortifications. He was made fun of by his class mates when, like St Ignatius, he tried to learn Latin. He was refused entry to the Society of Jesus in Segovia because of his lack of education. However the provincial eventually accepted him as a lay brother in 1571, at the age of forty, saying that if Alphonsus was not qualified to enter as a priest or brother he could enter as a saint. He began his noviciate in mainland Spain but was soon transferred to the island of Majorca where he was to remain for 46 years.
As a porter Alphonsus was receptionist and messenger, providing help for those in need or who were troubled. He is an attractive saint because he showed how an everyday job, however humble, can be turned into a ministry. He said that that every time the bell rang he imagined that it was God at the door. He was highly thought of in his community, often being asked to preach during a meal. He had a particular influence on St Peter Claver who, acting on his advice, went to South America and made the slaves his special concern.
Apart from his work as a porter, Alphonsus lived a very holy life, mortifying himself with extreme penances, He had suffered tragedy and failure in in his earlier life and in his Jesuit ministry was frequently troubled by temptations, aridity in prayer and desolation. His health was poor. However he saw himself uniting his hardships with those of Christ who had suffered for him. He had a great devotion to Our Lady and would frequently copy out the Office of the Blessed Virgin for those who asked.
Alphonsus lived into his eighties but his suffering did not decrease. He became very feeble and towards the end he could not even remember his favourite prayers. He died on 31 October 1617. He was canonized in 1888. Some of his writings, often concerned about daily life, have been published in Obras Espirituales del B Alonso Rodriguez.
 His fellow Jesuit, the poet Gerald Manley Hopkins, wrote of him in the poem St Alphonsus Rodriguez This is an extract:
Yet, he that hews out mountain, continent
Earth, all, at last; who, with fine increment
Trickling, veins violets and tall trees makes more
Could crowd career with conquest while there went
Those years and years by of world without event
That in Majorca Alphonsus watched the door.
There was a lot going on behind that door!
St Alphonsus Rodriguez, pray for us.