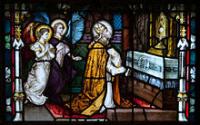 Feast day: 1 August
St Alphonsus Liguori was born in Marianella, near Naples (then part of the Kingdom of Naples) in 1696. He was the oldest of eight children of Giuseppe Liguori and Anna Maria Caterina Cavalieri. It was a family of noble origin but had become somewhat impoverished. Alphonsus' father was a Captain of the Royal Galleys. Alphonsus learnt to ride and fence but his eyesight was poor and he suffered from asthma; for that reason he was unsuitable for the army, and so his father educated him for the legal profession. He entered the University of Naples where he graduated in civil and canon law at the age of sixteen. He remarked later that he was so small at the time that he was swamped by his gown and caused amusement to onlookers. When he was eighteen, like many young nobles he joined the Confraternity of Our Lady of Mercy and assisted in taking care of the sick at the hospital for the "incurables".
He became a successful lawyer and practised for eight years and then lost, for the first time, an important case. He wrote to a friend:
"My friend, our profession is too full of difficulties and dangers; we lead an unhappy life and run the risk of dying an unhappy death."
He heard a voice saying to him:
"Leave the world and give yourself to me."
In 1723 he decided to join the Oratory of St Philip Neri, but his father objected, and they reached a compromise. He would study for the priesthood but not as an Oratorian and he would live at home. In his first year he lived with the homeless and marginalized youth of Naples. He became very popular because of his plain, straightforward preaching. He founded the Evening Chapels, which were managed by young people themselves: the chapels were community centres of prayer and preaching, and social and educational activities. At the time of his death there were 72 with over 10,000 participants.
In 1732 Alphonsus left home and began living in the Chinese Institute in Naples. Here, in the interior parts of Naples, he found people poorer and more neglected than the street children in Naples. In 1731, while ministering to the earthquake victims in the town of Foggia he had a vision of Our Lady as a young girl of 13 or 14, wearing a white veil.
A Sister Maria Celeste Crostarosa told him that it had been revealed to her that he had been chosen to found a congregation, which became known as the Congregation of the Most Holy Redeemer. Its charism was, as is now, preaching popular missions in the city and countryside. The goal was to preach in slums and poor places. They fought the rigour of Jansenism. The ideal of this congregation was that "penitents were souls to be saved rather than criminals to be punished". Alphonsus had suffered from scruples himself and this may have been instrumental in making him compassionate towards sinners. He was very popular as a confessor and it is said he never refused absolution. He felt that holiness was in the grasp of every human being. It was the duty of every confessor to awaken the love of God within souls. He talked about God being "crazy with love for us" and asked the recurring question, "What more could God do for us?" Sadly all but one of his first companions abandoned him.
He was a gifted musician and composer and wrote many hymns, using them at parish missions.
Alphonsus was consecrated Bishop dei Sant' Agata in 1762. He had resisted the appointment on grounds of age and health. As bishop he wrote sermons, books and articles to encourage devotion to the Blessed Sacrament and to Mary. He addressed ecclesiastical abuses in the diocese, reformed the seminary and brought new spiritual vitality to priests and laity. He suspended priests who celebrated mass in less than fifteen minutes. He sold his carriage and episcopal ring to give the money to the poor.
In the last years of his life Alphonsus suffered a painful sickness. He also was deeply distressed by the fact that he was tricked into signing a document for approval by the royal court of Naples. Pope Benedict XIV had approved the Congregation. However the royal court of Naples had yet to do so. The two delegates sent to the court allowed substantial changes to be made. The vows of religion were replaced with mere oaths, that of poverty disappeared altogether, the vow of persistence was omitted and the Congregation was made subject to local bishops. General Chapters disappeared altogether. The Pope, upset by the changes, dismissed Alphonsus from his own congregation. However the original rule was restored in 1793.
In 1775 he was allowed to retire and went to live in the Redemptorist community in Pagani, where he died in 1787 at the age of ninety one.
Alphonsus was multi-talented; he was a musician, painter. poet and author. He is still widely read and translated into many languages. His Christmas hymn From starry skies thou comest is his most well-known musical work. As a moral theologian his greatest contribution was The Moral Theology (1748) which was based on Alphonsus' pastoral experience and responded to everyday questions posed by the faithful. He steered a careful path between rigor and laxism. The work was only recently translated into English and comprises five volumes. He also defended Mariology in the age of enlightenment and rationalism. Alphonsus stressed the need for prayer:
"If you pray you are sure of saving your soul. If you do not pray you are just as sure to lose your soul."
He was canonised in 1839 by Pope Gregory XVI. He was named patron of confessors and moral theologians by Pius XII in 1950.
The image shows St Alphonsus Liguori kneeling before the Blessed Sacrament, portrayed in a 19th-century stained-glass window in Carlow Cathedral.
St Alphonsus Liguori founder of the Redemptorists, pray for us.