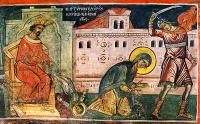 Feast day: 16 June
It is interesting to explore the origins of place names and churches which are associated with saints to whom there was once a great devotion but who are now largely forgotten. Two martyrs of the fourth century (they died in AD 304) are an example. They were SS Cyricus and Julitta, a mother and her little boy. They were victims of the last persecution of Christians before Constantine.
One version of their story is that Julitta and her three-year-old son had fled to Tarsus and were identified as Christians. Julitta was tortured and Cyricus, being held by the governor, scratched his face and was in consequence hurled down the stairs. Julitta did not weep but rejoiced that her son had won the crown of martyrdom. The governor then decreed that Julitta's sides should be ripped open with hooks and she was then beheaded. Her body together with that of her child was flung outside the city on to a heap of corpses of criminals, but two maids rescued and buried them. This account is recorded in a letter from Theodore of Mopsuestia to Pope Zosimus in the early fifth century.
An alternate version of the story is found in Latin, Syriac and Arabic.This account tells how Julitta was captured without Cyricus and brought before the governor. She refused to sacrifice to idols and asked that a child might be found so that they might ask him whether it was right to worship one God or many gods. Cyricus was found and declared himself to be a Christian. They were both tortured. Julitta was tempted to yield but the child gave her encouragement and they were both beheaded.
A story from Nevers states that one night Charlemagne dreamt that he was being killed by a wild boar during a hunt. He was saved by the appearance of a child, who promised to save him from death if he would give him clothes to cover his nakedness. The bishop of Nevers interpreted this dream to mean that the emperor was to repair the roof of the Cathedrale Saint Cyr et Sainte Julitte de Nevers.
Devotion to the two martyrs spread to Croatia. Georgia has a festival and pilgrimage, "The Day of Cyricus", in July. In Italy the child is called Quirico and the mother Giulitta; there are more than 200 churches, monasteries and localities throughout the country where signs of devotion to one or other or both saints have been identified. There are a few churches in England dedicated to them, including St Cyres in Devon, Tickenham in Somerset and Swaffham Prior in Cambridgeshire. In Wales there is a church at Llanilid, near Brigend in Glamorgan, dedicated to them in the names of St Ilid and St Curig. There is also devotion to them in the Middle East and India. St Cyr in Paris is named after Cyricus.
SS Cyricus and Julitta, pray for us.