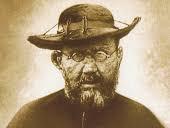 Feast day: 10 May
St Damien (1840-1889) was born Jozef De Veuster, the youngest of seven children. His parents were Johannes Franciscus De Veuster and his wife Anne Catherine. They lived in the village of Tremelo, in Brabant, Belgium. His father was a corn merchant, the boy grew up on a farm and it was assumed that he would take it over; instead, he went to college and then entered the novitiate of the Sacred Hearts of Jesus and Mary in Leuven. He took the name Damianus after St Damian, an early Christian saint. His elder brother became a priest and two of his sisters nuns. At first it was thought that he was unsuitable for the priesthood because of a lack of education but he was able to learn Latin from his brother and he was allowed to become a priest. During his studies he prayed constantly before a picture of St Francis Xavier, patron saint of missionaries, that he might be sent on a mission. His prayer was granted when his brother was unable to travel to Hawaii because of illness and Damien was sent instead.
In 1864 Damien arrived in Honolulu Harbour and he was ordained to the priesthood on 21 May of the same year in the Cathedral of Our Lady of Peace, built by his order. In 1865 he was assigned to the Catholic mission on North Kohola. Hawaii was a kingdom at this time. It was suffering from a labour shortage and there was a public health crisis because Eurasian diseases were killing much of the native population who had no immunity. It is believed that Chinese workers brought leprosy to Hawaii in the mid nineteenth century. It was thought to be highly contagious, to be transmitted through sexual contact and incurable. All of these beliefs have been since proved to be erroneous. However in 1865 the king and the Hawaiian legislature past the "Act to prevent the spread of leprosy" and ordered the most serious cases to be quarantined in a settlement colony of Kalawao on the island of Molokia'i. Later the settlement of Kalaupapa was developed. Kalawao county, where the two villages are located is separated from the rest of the island by a steep mountain ridge. Even in the 21st century the only land access is by mule. From 1866 to 1959 eight thousand Hawaiians were sent there. Initially the government provided food and other supplies but it did not have the resources to supply enough for them and it was hoped that they would grow their own food. This proved impractical as the lepers were to sick to work.
The Bishop, Louis Maigret, Vicar Apostolic of the Hawaiian islands, realised the lepers needed a Catholic priest. He did not want to send one "in the name of obedience" because of the risk involved. Four priests including Father Damien volunteered to go. The idea was that they should rotate in their service to the people. Damien arrived at the settlement of Kalaupapa in May, 1863. Bishop Maigret presented him to the inhabitants with the following prophetic words:
"One who will be a father to you and who loves you so much that he does not hesitate to become one of you; to live and die with you"
Damien worked with them to build a church and establish the parish of St Philomena. The church still exists today and Mass is said there once a month. Six months after his arrival Damien said:
"I make myself a leper with the lepers to gain all to Jesus Christ."
It was a very unpleasant situation. The smell was appalling and Damien had to accustom himself to it. He personally dressed the leper's ulcers and cared for them but also began to create infrastructure and community. He built houses, roads, hospitals and churches. He organized farms, made coffins and dug graves. He lived with his people, taught them, shared pipes with them and treated them as equals. It is important to remember too that the Hawaiian people were involved in his work and made a big contribution to improving conditions. Some of those who wrote eulogies about Damien tended to overlook these facts.
The King bestowed the honour of "Knight Commander of the Royal Order of Kalikaua" on Damien, a medal he never wore, although it was placed at his side at his funeral. The Crown Princess, who came to present the medal, was so overcome by the sight of the residents that she was unable to read her speech. She shared her experience of what she had seen and Damien became internationally known both in the United States and in Europe. As a result American Protestants raised large sums of money for his work and the Church of England provided food, medicine and other supplies.
Damien worked for sixteen years providing comfort and improving the lot of the lepers in Kalaupapa. In 1884 while preparing to bathe, Damien inadvertently put his foot into scalding water causing the skin to blister. He felt nothing and realised that he had contracted leprosy. Despite his illness he worked even harder. In 1885 a Japanese leprologist came to Honolulu and treated Damien. He prescribed a sensible regime of good food, some exercise, frequent friction of the affected parts, special ointment and medical baths. The treatments did relieve some of the symptoms though a cure would not be found till 1940. Damien still worked at his building projects and was joined by four assistants. These were a Belgian priest Father Conrardy, who took up pastoral duties, Joseph Dutton, who took charge of of the buildings, James Sinnett, who nursed Damien in the last phases of his illness, and Mother (St) Marianne Cope who worked in the hospital.
Damien died on 15 April 1889 after being bedridden. After his funeral the entire settlement followed the cortege to the cemetery. Damien was buried under the same pandanus tree where he had slept on his first night on Moloka'i. In 1936 at the request of Leopold III of Belgium and his government, his body was returned to Belgium and he was buried in Leuven, close to where he was born. After his beatification in 1995 the remains of his left hand were returned to his original grave in Moloka'i.
Damien has received some unfavourable comments. He was a loner who sometimes found it difficult to work with other people. The Hawaiian government found him demanding in his constant requests for resources. He could be autocratic, thinking he alone knew best. His religious superiors forbade him to come to the house in Honolulu because of the risk of infection. The most severe criticism came from representative from Presbyterian and Congregational churches in Hawaii. One minister wrote to a fellow pastor in San Francisco accusing Damien of being "a coarse, dirty man" who had contracted leprosy through his own carelessness. These remarks and more were published in an American newspaper. Damien however was later vindicated by the author Robert Louis Stevenson, who came to Hawaii for health reasons. He became interested in the controversy, visited Moloka'i and interviewed a number of people to find out their opinions on Damien's work. He wrote an open letter to Hyde, the minister who had written the original report, and had it published at his own expense. In his 6,000 word polemic Stevenson praised highly what Damien had done. Mahatma Gandhi later said that the priest had inspired his own work. Damien was canonised on 11 October 2009, the ceremony being attended by the King and Queen of Belgium. Presdident Barack Obama said of him that he gave voice to the voiceless and dignity to the sick.
St Damien of Molocka'i, pray for us.