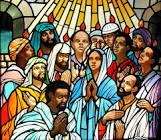 It is of course impossible to describe the Holy Spirit. Images such as dove, symbolising peace and gentleness, wind, power and tongues of fire, passion and eloquence are used, but such terms are obviously very inadequate. Power, for example, is often understood to be domination. The gun lobby in America uses vast funds to keep politicians subservient to them and dictators cling on to their positions, irrespective of the wishes of their people, and silence any opposition. The power of the Holy Spirit is totally different, because it is the power of love.
When Mary travelled to the hill country of Judaea, a distance of about a hundred miles, she must have been exhausted and concerned about her future as an unmarried mother in a society that might put her to death. Elizabeth, inspired by the Holy Spirit, gave her comfort and affirmation.
In the post-Easter liturgy, the Acts of the Apostles is read at Mass. Jesus, the Word of God in human form, had planted the seed, which the Holy Spirit nourished through the work of the early church. The Lord had spoken about the action of the Paraclete at the Last Supper, recorded in the discourses of St John's gospel: "When the Advocate comes, whom I will send you from the Father, the Spirit of truth who comes from the Father, he will testify on my behalf' (John 15:26-27).
After Pentecost it was this Spirit that guided the infant church. At the Council of Jerusalem, Peter spoke in the name of the Spirit when the decision was made to spare the gentiles the observance of Jewish practices. It was the Spirit that directed St Paul in his journeys. In our own time Pope St John XXIII described the inspiration for the calling of the Council of the Church, which became known as Vatican II, as being like a "Flash of Heavenly Light." The Lord and Giver of Life had chosen a sick old man, regarded as a stop-gap Pope, as the instrument of bringing much-needed renewal to the modern church.