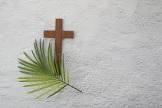 At Sunday's liturgy, we read of two processions. The first is Jesus' triumphal entry into Jerusalem; the second is his journey to the cross.

"Rejoice greatly, daughter of Zion! Shout, daughter of Jerusalem! See your king comes to you righteous and victorious, lowly and riding on a donkey, on a colt, the foal of a donkey." (Zechariah 9:9)
The contrast between the crowds shouting "Hosanna" and those crying "Crucify him!" could not be starker. The evangelist seems to use this to point out the ephemeral nature of popular adulation compared to the lasting victory which lies in Christ's suffering and death on the cross.
It is generally accepted that Luke was a gentile, writing for a largely gentile audience. Many of his readers would have been Romans. He therefore makes clear that Jesus had not committed any crime against the Empire. Pilate, the governor, declared on three separate occasions that he found him innocent; and the centurion who presided over his execution declared publicly: "This was a great and good man."
One of the main themes in Luke's gospel is the loving forgiveness and compassion of God, illustrated in the story of Zaccheus and the parable of the Prodigal Son. This theme continues throughout the Passion, where Jesus comforts the women of Jerusalem - in spite of his own agony - and mourns the future fate of his beloved city. Its destruction would have occurred by the time Luke wrote his gospel. Jesus' life ends with his promise of paradise to the repentant thief. Unlike in the accounts of Matthew and Mark he dies in peace, yielding up his spirit to his father.