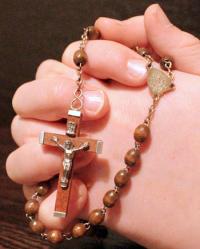 The rosary will be prayed in the Cathedral every evening during the month of October.
On weekdays during the month, it will be prayed online via our webcam at 7:30pm.
On Sundays in October, it takes the form of our traditional candlelight procession at 8:00pm. Due to level 3 COVID-19 restrictions, this is no longer open to the public, butis prayed online via our webcam.
All who take part in the October rosary are asked to pray for deliverance from the current pandemic, and for the comfort and recovery of those who have been afflicted with the disease.