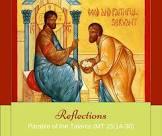 Life in the west is very different to that of Jesus's time. Only very rich people have servants. In first-century Palestine, however, many people would have been employed either as servants or - worse still - as slaves. They were subject to corporal punishment, which thankfully has been abolished in modern times at least in this part of the world. In a daily routine of drudgery, poor remuneration and harsh treatment, it must have been very tempting for those in service to take advantage of their master's absence and live it up a bit. A loyal servant must have been highly valued. The imagery is useful as a mirror of the Christian journey.
The commitment of our baptism to be followers of Christ is unconditional. Times are very difficult at the moment, with inflation, the devastating results of climate change and the vicious war in Ukraine. It is difficult to see God in all of this or to know how best to serve him. Our Lord's insistence on watchfulness, both in today's reading and in the parable of the wise and foolish bridesmaids (Matthew 25:1-12), means that we look for God's purpose in the detail of everyday life and act accordingly. The rich man failed to observe the beggar Lazarus lying at his gate and missed the opportunity to help him (Luke 16:19-31).
The letter to the Hebrews, by an unknown author, gives Abraham as a clear example of what a faithful servant should be. He left his own country at God's command and was even prepared to sacrifice his son if God so wished. His trust in his creator was complete. Mary gave an even greater example of faithfulness in that she accepted God's plan for her and so was the means by which he brought about salvation. "Behold, I am the handmaid of the Lord. May it be done unto me according to your word" (Luke 1:26-38).