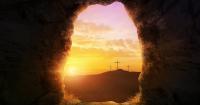 The week between Passion Sunday and Easter Sunday is the most sacred of the church year, and will be celebrated in solemn fashion in Galway Cathedral.
See also: Confession during Holy Week; Music Listings
Palm Sunday
Sunday 10 April 2022
Mass on Saturday at 6:00pm, and on Sunday at 9:00am (Gaeilge), 10:30am (Cathedral Choir), 12:30pm and 6:00pm.
Holy Thursday
Thursday 14 April 2022
Chrism Mass at 11:00am, celebrated by Bishop Brendan Kelly and all the priests of the diocese.
Mass of the Lord's Supper at 8:00pm. The Blessed Sacrament will be carried in procession to the Altar of Repose afterwards, and the Cathedral will remain open for adoration until Night Prayer at 10:50pm.
Good Friday
Friday 15 April 2022
Morning Prayer at 10:45am.
Commemoration of the Lord's Passion at 3:00pm.
Stations of the Cross at 8:00pm.
Holy Saturday
Saturday 16 April 2022
Morning Prayer at 10:45am.
Easter Vigil at 9:00pm.
Easter Sunday
Sunday 17 April 2022
Mass at 9:00am (Gaeilge), 10:30am and 12:30pm (no evening mass).
Easter Week
Monday - Friday, 18-22 April 2022
There is mass at 11:00am only on these days. Our normal mass schedule resumes on Saturday 23 April.