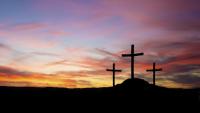 The week between Passion Sunday and Easter Sunday is the most sacred of the church year, and will be celebrated in solemn fashion in Galway Cathedral.
See also: Music listings; Confessions during Holy Week; Masses after Easter
Passion Sunday
Sunday 25 March 2018
Mass on Saturday at 18:00, and on Sunday at 09.00, 10:00, 11:00 (Cathedral Choir), 12:30 and 18:00.
Holy Thursday
Thursday 29 March 2018
Chrism Mass at 11:00, celebrated by Bishop Kelly and all the priests of the diocese.
Mass of the Lord's Supper at 20:00. The Blessed Sacrament will be carried in procession to the Altar of Repose afterwards, and the Cathedral will remain open for adoration until 22:00.
Good Friday
Friday 30 March 2018
Commemoration of the Lord's Passion at 15:00.
Stations of the Cross tableau at 20:00.
Holy Saturday
Saturday 31 March 2018
Easter Vigil at 21:00.
Easter Sunday
Sunday 1 April 2018
Mass at 09:00, 10:00, 11:00 (Cathedral Choir) & 12:30; no evening Mass