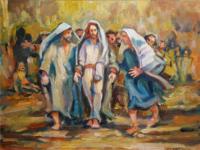 Jesus must have looked forward to going home to Nazareth. He had spent almost thirty years there. It was a small village and he had worked there as the local carpenter, so he was probably a familiar figure to most people. Indeed, the family seems to have been well known, as they could call his relatives by name. However the person who returned was different. He preached with wisdom and authority and performed miracles. They could not believe that this was the same craftsman who had once worked for them.
We see people from our own perspective, admiring those qualities that appeal to us and spurning those that don't. How often have we been in situations where we initially disliked a person only to discover their wonderful gifts when we took the trouble to become more closely acquainted? Many rejected Jesus, because their own envy or prejudice prevented them seeing him clearly. It was people who were humble who were able to detect something very special in him. The Samaritan woman and Nicodemus both felt that they had something to learn from Jesus. Peter, with divine inspiration, proclaimed him as the Christ (Matt 16:16-18); yet recognising him was only the start of his journey, which would have many pitfalls before he finally gave glory to God with His death.
In our journey through life, we find Christ in so many different ways and through so many different people. Like Mary we must ponder things in our heart lest we miss opportunities to come closer to the Lord.