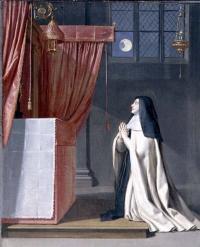 The eucharist is at the centre of our Christian faith. It is the commemoration of the loving self-giving of Jesus in his passion and death. On Holy Thursday, we celebrate the institution of the sacrament but at that time we are also reflecting on the triumph of the cross on Good Friday, and the solemnity of that occasion precludes a joyful contemplation of the wonderful gift Jesus has given us.
A thirteenth-century nun, St Juliana of Liege (in modern Belgium), had a great devotion to the eucharist, and she longed for a special feast-day in its honour. She had her first vision at the age of sixteen: it was of the full moon in its splendour, crossed diametrically by a dark stripe. God helped her to see that the moon was the life of the church and the darkness the lack of a feast in honour of the body and blood of Christ. She campaigned for this for this for much her life, and eventually succeeded getting the support of her confessor. She did not live to see the success of her endeavours, when - during the pontificate of Pope John XXII in 1317 - the feast became widely celebrated. Juliana had composed the initial version of the first office but this was replaced by an office composed by Thomas Aquinas. Juliana saw the feast day as a community festival, with the faithful gathered together in communion with one another, whereas Thomas Aquinas wanted to emphasise the priest as representative of Christ, the eternal High Priest. There is a richness in both approaches. Juliana's sense of it as a community event was not lost, however, due to the growing popularity of eucharistic processions.
The community aspect does not end at the church door. In his account of the Last Supper, John highlights the washing of the feet as the example Jesus gave of service to his apostles. In our union with Jesus, we must act as he did and bring the fruits of the sacrament to feed a starving world.