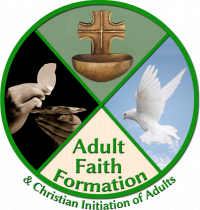 There is no doubt: we are all in need of deepening our faith, along with those who feel called to join the Catholic Church. These programmes are designed to cater for both.
Programme details
Each programme has four sessions and concludes with a liturgy of renewal
Autumn 2020: Our core beliefs, as expressed in our creeds.
Spring 2021: The sacraments, enabling us to believe, live and grow in Christ.
Autumn 2021: Our ethical life as we live out our discipleship in today's world.
Spring 2022: Prayer as maintaining our ongoing relationship with God.
Autumn 2020 programme
Owing to current Covid-19 restrictions, the Autumn 2020 sessions will be hosted via Zoom.
Session 1: 12 November 2020 at 7:30pm
Session 2: 19 November 2020 at 7:30pm
Session 3: 26 November 2020 at 7:30pm
Session 4: 3 December 2020 at 7:30pm
All sessions will be facilitated by Fr Gerard McCarthy SVD.
If you are interested in participating in this programme or would like further information, please email gearoidmccarthy@me.com.