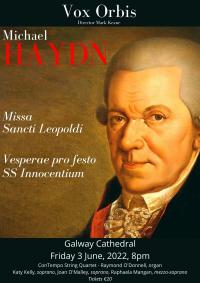 Galway based choir Vox Orbis, directed by Mark Keane, performs two works by Michael Haydn in the Cathedral on Friday 3 June 2022.
The choir is joined by sopranos Katy Kelly and Joan O'Malley, and is accompanied by ConTempo String Quartet and Cathedral organist Raymond O'Donnell. Together, they perform Michael Haydn's Missa Sancti Leopoldi and Vesperae pro festa SS Innocentium.
Tickets are €20, and will be available at the door. More information from voxgalway@gmail.com.