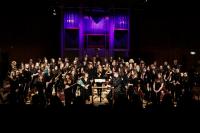 The University of York Concert Band will give a short, informal concert in the Cathedral on Thursday 24 March 2022.
The concert begins at 12:30, and lasts about 40 minutes. Admission is free.
The band is a student-led society based in York, England. It has been running for 32 years now, performing concerts around three times a year in and around York. Its repertoire consists of both popular favourites from films, and symphonic works, at standards ranging from the simple to the very complex. Its membership consists of students and ex-students alike - the strong sense of community and camaraderie keeps members coming back even after graduation!
The band also takes an annual tour around the world, to explore new cities and share its hard work with a wider community. This year it explores Ireland, based in Galway, and performs in a couple of locations around the city. Its programme for this tour includes music by James Barnes, Robert Sheldon and Joe Hisaishi, as well as a beautiful choral work adapted for concert band by Eric Whitacre. Its two conductors this year are Liam Oxley and Alexandra Webster-Hirst.