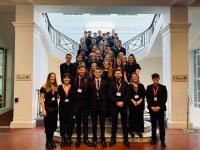 Queen's University Symphony Orchestra gives a concert in the Cathedral on Wednesday 8 June, beginning at 7:30pm. Admission is free; a retiring collection will be split between the orchestra's expenses and the Ukraine appeal.
The programme includes extracts from Swan Lake (Tchaikovsky), from Spartacus (Khachaturian) and from Riverdance (Whelan), and two of Dvořák's Slavonic Dances.
The Queen's University Symphony Orchestra (QUSO) is one of only two fully student-run orchestras in Ireland. Established in 2007, QUSO aims to enrich the musical life of Belfast and the University Area by inspiring and involving members from all walks of life in a high-quality musical ensemble. By fostering a friendly and inclusive environment, QUSO attracts players from all backgrounds and degree subjects and offers opportunities to perform in Belfast and further afield. Since 2011, QUSO has undertaken annual tours of Ireland and the UK, including performances in Dublin, Cork, Galway, Glasgow, Edinburgh, Liverpool and Manchester. Following significant disruption to rehearsals caused by the pandemic, the Orchestra has been revived for the 2021/22 season. In February 2022, QUSO rose from the ashes in the National Concert Hall, bringing to life the finale of Stravinsky's Firebird as part of IAYO's 26th Festival of Youth Orchestras. The players, management committee and conductors are excited to perform in the beautiful surroundings of Galway Cathedral once again and look forward to greeting a wonderful Galway audience.