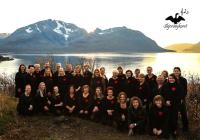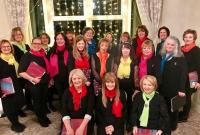 A performance by the world-class choir Skjervøykoret, from Norway, supported by Cahir to Sing and guest musicians, in the Cathedral on Friday 14 October 2022 at 7:30pm. Admission is free.
Skjervøykoret is a mixed choir of 35 singers hailing from Skjervøy, a small Norwegian island located north of the Arctic circle in the Land of the Midnight Sun. Formed in 1982, the choir has performed nationally and internationally with a traditional as well as a contemporary repertoire. The current director is Audun Skog.
Cahir to Sing is a ladies' choir formed six years ago with the aim of singing for pleasure whilst being inclusive and welcoming. The choir is based in Cahir, Co. Tipperary, but members are drawn from around the globe; and this eclectic mix is reflected in the repertoire, which includes sacred and secular music. The Musical Director of Cahir to Sing is Fidelma Nugent.
Guest musicians include Finnish violinist Petra Sundström and Suzanne Buttimer from Rockwell Music Academy.