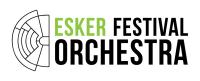 Esker Festival Orchestra gives a concert in the Cathedral on Friday 19 August at 8:00pm. The centrepiece of the concert is Mahler's Symphony no. 1, as well as music by Ernest Chausson and young Irish composer Kellie O'Neill.
Admission is €15 (concessions €10) at the door or online.
In the words of the organisers:
"The Esker Festival Orchestra, Ireland's most exciting and established peer led orchestra, will return this August for its 9th annual residential and summer tour. This year's tour will see performances in Galway Cathedral on Friday 19th of August at 8pm, in MTU Cork School of Music in association with Cork School of Music, Cork on Saturday, 20th of August at 6pm, and in the Capuchin Friary, Church Street, Dublin 7 on Sunday, 21st August at 2pm.
"We are excited to announce what could be our most ambitious programme yet, featuring performances of Gustav Mahler's titanic 1st Symphony. On top of this we will be performing the beautiful Poème for Violin and Orchestra by Ernest Chausson featuring the incredible Irish violinist Phoebe White as well as the world premiere of Macha by young Irish composer Kellie O'Neill. Once again the orchestra will be resident in the beautiful surrounds of NUI Galway and will perform concerts in Galway, Cork and Dublin, under the baton of young Mexican conductor Rodrigo Sámano.
"The Esker Festival Orchestra brings together Irish and international emerging young professional musicians of the highest calibre. The orchestra will come together for an intensive rehearsal residency in NUI Galway from 15-19 August.
"The Esker Festival Orchestra was set up in 2014 to provide a high quality, beneficial and meaningful musical opportunity for young emerging musicians from all across Ireland and for the first time to have an orchestra of this quality and scope based in Galway. The orchestra was set up to fill the musical and social void that currently exists in Ireland by allowing young musicians from across the country to perform together, socialise together and to build relationships that will be essential during their personal and professional lives. It promotes and develops orchestral music in Ireland by nurturing the talents of its emerging musicians with as little financial burden as possible on the musicians themselves. Finally it is unique in that it is entirely led and run by its members for its members, allowing those taking part to gather invaluable first-hand experience in the world of orchestral music.
"The Esker Festival Orchestra is supported by the Irish Association of Youth Orchestras, The Arts Council, RTÉ Supporting the Arts, NUI Galway and CIT Cork School of Music."