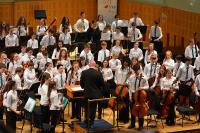 Dublin Youth Orchestra gives a concert in the Cathedral on Saturday 30 March 2019, beginning at 8:00m. Admission is free.
The programme lasts about an hour, and includes:
Grand March from "Tannhauser" - Richard Wagner
Symphony No. 8, Mvt 1 - Franz Schubert
Charlie and the Chocolate Factory - Danny Elfman
Dance of the Hours - Amilcare Ponchielli
The Best of Green Day - Green Day
Evangeline: Two Cajun songs - Traditional
Jazzy Little Brown Jug - Joseph Winner
A Rockin' Halloween - Parker/Barbera/Hanna/Curtin/Capizzo/Pickett
More information about the orchestra is available on the DYO website.