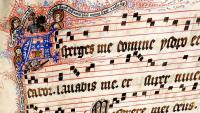 We are delighted to announce that the Cathedral Choir, after a 20-month absence due to Covid-19 restrictions, is returning to sing once more at the 10:30am mass from Sunday 7 November onwards.
Weekly music lists will be published once again on this website, and are available here.
It is wonderful to have the choir once again bringing great beauty and dignity to the Sunday liturgy.