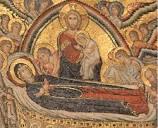 The Orthodox and Eastern Catholic tradition teaches that when Mary's life came to an end she fell asleep. This is called the Dormition and is depicted in the Blessed Sacrament Chapel in Galway Cathedral, where in the stained glass window, the artist has captured the look of radiant peace on Our Lady's face. The picture above shows the sleeping Mary and Christ taking His mother's soul into his arms. Mary had done everything God had asked of her. She had lived as a Jewish wife and mother in a small village in Palestine, with her husband Joseph and son Jesus. Luke describes this very well in his account of Jesus in the temple (Luke 2:41-53). It is a story that will resonate with many a parent, whose child has gone missing and the reproach that follows when he is found. Mary's life was not glamorous. The phrase "The mother of Jesus was there" (John 2:1) perhaps sums up her being. She was there whenever she was needed; to give birth to God's Son, to help out at Cana and finally to stand by the cross as Jesus died in agony. Christ's mother was there too at the birth of the Church, his Mystical Body, at Pentecost.
The Roman Catholic church uses the word "Assumption" for the end of Mary's life, the belief being that she was taken up bodily into Heaven. There is no scriptural evidence for this event but it was celebrated from about the fourth century. Pope Pius XII defined it as a doctrine in 1950. Her entry into Heaven and her reunion with her Son eclipse any earthly triumph. She is the model for the quiet, unselfish lives of wives and mothers, who are ignored and forgotten by the world but not by God.
Mary, Mother of God, Theotikos, pray for us.