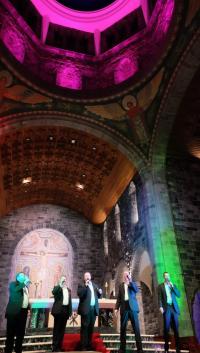 The A-Capella Knights present their annual concert, The Knights Before Christmas, on 12 December 2020 at 8:00pm. Due to COVID-19 restrictions, the concert will be streamed.
Tickets cost €15.00, and all proceeds go to support the children's cancer charity Hand in Hand. Tickets are available from www.handinhand.ie/concert.
Special guests this year include Skehana Folk Group, Frenchville Brass Ensemble, Galway Sings, Renmore Pantomime, Hession School of Irish Dance, and the Galway Simon Music Project.