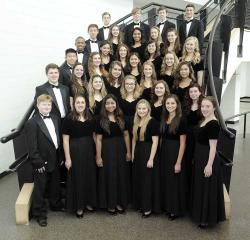 The Skyline High School Choir, from Ann Arbor, Michegan, in the USA, will sing at the 18:00 mass in Galway Cathedral on Saturday 21 February.
Some information abot the choir:
The Vocal Music Department at Skyline High School houses four choirs: Cantare Cantando Mixed Chorus, Bel Canto Women's Chorus, A Cappella Mixed Choir, and Skyline Blues. The Skyline Ireland Choir is comprised of 10th, 11th, and 12th grade students from each of these choirs. Skyline High School opened in 2008 and in that short amount of time, its choirs have achieved much success. In February of 2012, Skyline Choirs toured Italy and performed at Santa Maria Maggiore, All Saints Church, and in a mass at St. Peter's Basillica of the Vatican. Recently, Bel Canto Women's Chorus, the advanced women's choir, was honoured to perform at the Choral Hour of the Michigan Music Conference. Bel Canto has consistently earned Superior Ratings at District and State Choral Festival. Cantare Cantando is Skyline's beginning ensemble and they have also earned many Excellent and Superior Ratings at Festival. A Cappella Mixed Choir is Skyline's advanced mixed ensemble. In addition to earning Excellent and Superior Ratings, A Cappella has been featured in the Ann Arbor Symphony's performance of Carmina Burana and recently performed in the world premiere of Rejoice, a new Christmas work by Stuart Scott. Skyline Blues is a select a-cappella ensemble, which performs contemporary pop a cappella as well as traditional small ensemble repertoire. Skyline Blues has earned Superior and Excellent ratings at Solo and Ensemble and recently placed 3rd in the Great Lakes semi-final of the International Championship of High School A Cappella. Each year, the students of Skyline's choirs participate in a week-long overnight camp, held at Interlochen Center for Performing Arts.